01.03.2009 | Original Paper | Ausgabe 3/2009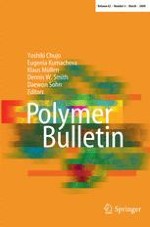 Chemoenzymatic synthesis of amylose-grafted polyacetylene by polymer reaction manner and its conversion into organogel with DMSO by cross-linking
Zeitschrift:
Autoren:

Yousuke Sasaki, Yoshiro Kaneko, Jun-ichi Kadokawa
Abstract
This paper reports chemoenzymatic synthesis of amylose-grafted polyacetylene according to the following polymer reaction manner. At first, the amine-functionalized polyacetylene was prepared by the Rh-catalyzed copolymerization of a protected amine-substituted acetylene monomer (
tert
-butyl propargylcarbamate) with
N
-propargylethanamide, followed by deprotection process. Then, the maltooligosaccharide chains were introduced on the polyacetylene by the reaction with maltoheptaose lactone. Finally, the phosphorylase-catalyzed enzymatic polymerization from the oligosaccharides on the produced polyacetylene was performed using α-
d
-glucose 1-phosphate as a monomer to give the polyacetylene having amylose graft-chains. Furthermore, the cross-linking reaction of the remaining amino-groups on the amylose-grafted polyacetylene with hexamethylene diisocyanate was carried out in DMSO to give the insoluble material, which formed the organogel with DMSO. The mechanical property of the gel was evaluated by compressive stress–strain measurement.