01.10.2011 | Ausgabe 5/2011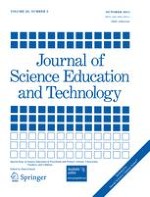 Children Explain the Rainbow: Using Young Children's Ideas to Guide Science Curricula
Zeitschrift:
Autoren:

Christina Siry, Isabelle Kremer
Abstract
This study examines young children's ideas about natural science phenomena and explores possibilities in starting investigations in kindergarten from their ideas. Given the possibilities inherent in how young children make sense of their experiences, we believe it is critical to take children's perspectives into consideration when designing any activities, and ideally, to design activities
from
their perspectives and understandings. Specifically, this research focuses on 5- and 6-year old children's explanations of rainbows, and there are three main findings. First, our analysis demonstrates that opportunities to discuss their ideas revealed children's different perceptions of the phenomena of rainbows. Secondly, this research emphasizes that peer-to-peer interaction in the co-construction of science concepts provided support to the children to learn
from,
and
with,
each other. Third, children's initial explanations provided the teacher-researcher (second author) with a starting point to scaffold her teaching from. Although rainbows are quite an abstract topic to try to reproduce in the classroom, the children demonstrated their often sophisticated understandings of natural science phenomena, as well as their creative ideas as related to rainbows. In order to foster an appreciation of themes in natural science, it is crucial to build from what children already know and can do, and to use these emergent theories and considerations in designing curriculum. Thus, we draw implications for the importance of teaching science at the early childhood level and for using children's ideas as starting points in planning instruction.