2015 | OriginalPaper | Buchkapitel
8. China's Economic Simulation for the Period of Global Crisis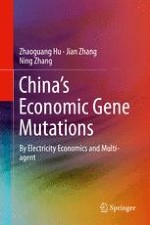 Erstes Kapitel lesen
Autoren: Zhaoguang Hu, Jian Zhang, Ning Zhang
Verlag: Springer Berlin Heidelberg
Abstract
There is a cycle of around 9 years in economic growth in China, which is like a sine curve. It can be roughly seen from the curve that each of the four periods of valley, growth, peak, and fall will take about 2.5 years. As we discussed in Chap.
1
, the economic growth valley years were 1981, 1989, and 1998; thus, on the basis of the economic cycle, the next growth valley would be in around 2007–2008. Reviewing electricity data, the growth of electricity demand was falling monthly to enter the valley period in 2007, which means the economic cycle is active in China's economic operation. However, the global economic crisis happened in 2008, and China's economy was affected sharply by both China's economic cycle and the global crisis because imports and exports in the Chinese economy are closely related to the global economy. Realizing the economic recession was serious, the Chinese government decided to make a huge investment to stimulate the economy in early 2009, and then the economy grew fast for 2 years, especially the growth in electricity demand, which was in double digits. However, there were some problems such as bubbles in real estate, excess capacity in many sectors of manufacture, etc., and some economists criticized the action of the investment. It will be simulated by using our Agent Response Equilibrium (ARE) model as discussed in Chaps.
6
and
7
. In this chapter, the evaluation rules of economic simulation will be introduced to show the test and evaluation of the ARE model, and the economic growth in 2007 will be discussed as the basis for the simulation based on the input–output (I/O) table in 2007. Then the economic simulations for 2008, 2009, and 2010 by the ARE model will be tested by the rules, which show very small errors. Experiments on different policies for economic operation can be simulated on a computer by the ARE model.