01.03.2011 | Research Article | Ausgabe 1/2011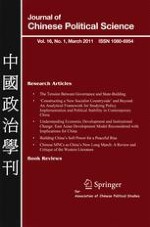 Chinese MNCs as China's New Long March: A Review and Critique of the Western Literature
Zeitschrift:
Autor:

Jean-Marc F. Blanchard
Wichtige Hinweise
The author would like to thank the editor, Matt Ferchen, and Norrin M. Ripsman for their feedback on various ideas contained in this article.
Abstract
Chinese outward foreign direct investment (COFDI) has captured the imagination of international business academics, journalists, and analysts of Chinese foreign economic policy. While these students of COFDI have added greatly to our knowledge, they have not adequately considered the politico-economy of COFDI. Specifically, they have not sufficiently evaluated the degree to which COFDI is driven by political versus economic considerations, the extent to which political considerations influence the overseas operations of Chinese multinational corporations (MNCs), or the political ramifications of COFDI for host countries, international institutions, or China's interactions with third parties. Reviewing the Western literature, this article provides useful background information about COFDI, distills two general schools of thought about the politico-economy of COFDI—i.e., the "Beijing as Puppeteer" camp and the "Business of Business is Business" camp, and highlights a number of shortcomings with each. As well, it suggests a number of ways in which the extant literature can move forward and makes clear the importance of tracking the development of Chinese MNCs.