04.09.2020 | Ausgabe 3/2020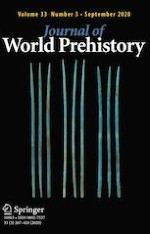 Chinese Prehistoric Eyed Bone Needles: A Review and Assessment
Zeitschrift:
Autoren:

Wei Wang, Christopher Bae, Xin Xu
Wichtige Hinweise
Electronic supplementary material
Publisher's Note
Springer Nature remains neutral with regard to jurisdictional claims in published maps and institutional affiliations.
Abstract
The invention of eyed bone needles (EBNs), thought to be directly related to closer-fitting sewn clothing, was a development critical to the survival of
Homo sapiens
throughout the Old and New Worlds, particularly when they moved into higher latitudes and were impacted by major glacial events. Although EBNs from Europe and North America are relatively well researched, many other regions still have not received comparable attention. Here, we present a synthesis of the currently available EBN data from China that to date have been largely presented only in the Chinese language. We report 1619 EBNs from 138 sites that date to the Late Paleolithic, Neolithic, and Bronze Age, where they are eventually replaced during the Han Dynasty (202 BC–AD 220) by the development of eyed iron needles. The four key conclusions drawn from this synthesis are: (1) the earliest appearance of EBNs in China is contemporary with similar bone tools from Europe, and they continue to appear regularly into the Bronze Age; (2) the Chinese EBNs are more commonly reported in the north than the south, but this may reflect generally poorer bone preservation or less intensive research in the south; (3) the basic metric dimensions of EBNs in China do not change dramatically through time from the Paleolithic to the Neolithic to the Bronze Age, though some degree of variation is present—for example, rather large EBNs appear during the Neolithic, possibly reflecting different functions (e.g., sewing vs. weaving); and (4) Chinese EBNs are known from almost every type of archaeological context, ranging from temporarily occupied cave and open-air sites during the Paleolithic to larger open-air settlement sites in the Neolithic and Bronze Age—they are not only found in areas that may have served for clothing preparation, they are also commonly found as funerary items.