18.04.2020 | Original Research | Ausgabe 9/2020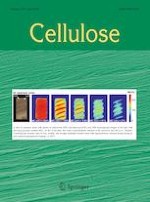 Chitin nano-crystals/sodium lignosulfonate/Ag NPs nanocomposites: a potent and green catalyst for efficient removal of organic contaminants
Zeitschrift:
Autoren:

Jian Yang, Xingye An, Liqin Liu, Frederikus Tunjung Seta, Hao Zhang, Shuangxi Nie, Shuangquan Yao, Haibing Cao, Qingliang Xu, Hongbin Liu, Yonghao Ni
Wichtige Hinweise
Electronic supplementary material
Publisher's Note
Springer Nature remains neutral with regard to jurisdictional claims in published maps and institutional affiliations.
Abstract
It is an emerging issue to chase a high performance of metal nanoparticles based catalytic systems with a small and uniform particle size. Herein, a study has been carried out towards the green and facile synthesis of silver nanoparticles (Ag NPs) based nanocomposites for efficient removal of emerging contaminants. Bioresources from the marine crustacean animals and traditional pulping process, such as chitin and lignin, have received great attention in bio-functional material areas. This research is to prepare chitin nano-crystals/sodium lignosulfonate/silver nanoparticles (ChNC@NaLS@AgNPs) nanocomposites for small and uniform particle size of Ag NPs. ChNC and NaLS acted as sustainable and efficient bio-supports during Ag NPs synthesis to synergistically control the particle size of Ag NPs. It was found that the Ag NPs synthesized in ChNC@NaLS@AgNPs nanocomposites had a smallest particle size and narrowest size distribution compared with that of the control. The catalytic degradation results showed that ChNC@NaLS@AgNPs nanocomposites exhibited highest catalytic degradation performance for model contaminants of Congo Red (k = 50.2 × 10−3 s−1) and TC·HCl (k = 0.0483 min−1). This research provides a great potential application of chitin and lignin in synthesizing nano-catalysts synergistically for high degradation performance of emerging contaminants in waste water.
Graphic abstract
×