15.05.2019 | Original Paper: Sol-gel and hybrid materials for energy, environment and building applications | Ausgabe 2/2019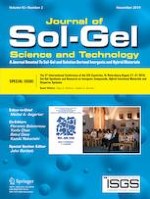 Chitosan-based biosorbents: immobilization of metal hexacyanoferrates and application for removal of cesium radionuclide from aqueous solutions
Zeitschrift:
Autoren:

Larisa Zemskova, Andrei Egorin, Eduard Tokar, Vladimir Ivanov
Wichtige Hinweise
Supplementary information
Publisher's note:
Springer Nature remains neutral with regard to jurisdictional claims in published maps and institutional affiliations.
Abstract
Composite M (M—Cu, Ni) potassium ferrocyanide chitosan-based materials were prepared via co-precipitation methods using chitosan as a matrix for adsorption of cesium from alkaline solutions. The materials were fabricated using a suspension or in situ formation of ferrocyanides of transition metals in a chitosan matrix with simultaneous chitosan deposition. The synthesis products were characterized by the methods of scanning electron microscopy with energy-dispersive analysis (SEM–EDX) and X-ray diffraction (XRD). In the process of sorption of radiocesium from alkaline solutions under static conditions, the stability of composite sorbents compared with the pristine powders of transition metal ferrocyanides was estimated. The boundary values of the pH and time, at which the destruction of the composite sorbent is observed, are determined. The stabilizing effect of chitosan on the resistance of Ni-K ferrocyanide (FCN) complexes in alkaline mineralized solutions has been shown on the example of Ni-K FCN/chitosan composite sorbents.
×