01.11.2017 | ORIGINAL PAPER | Ausgabe 12/2017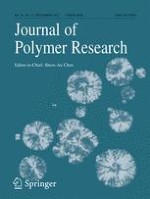 Chitosan-
g

-poly(4-acrylamidobenzenesulfonamide) copolymers: synthesis, characterization, and bioactivity
Zeitschrift:
Autoren:

Fakhreia Al-Sagheer, Khaled Khalil, Huda Mahmoud, Abdel-Zaher Elassar, Enas Ibrahim
Wichtige Hinweise
Electronic supplementary material
Abstract
The monomer, 4-acrylamidobenzenesulfonamide (ABS), was synthesized via reaction of acryloyl chloride with 4-aminobenzenesulfonamide in acetone at 0 °C. This monomer was then grafted onto chitosan using solution containing 2% acetic acid and mixture of K2S2O8 and Na2SO3 as the redox promoter. An optimal G% of 150% was obtained when the process is conducted at 60 °C for 3 h employing 3.0 × 10−3 M K2S2O8 and 1.5 × 10−3 M Na2SO3. The graft copolymers, chitosan-g-poly(4-acrylamidobenzenesulfonamide), were characterized by using FTIR, XRD, and SEM. The results were shown that the crystallinity of chitosan is enhanced by increasing the monomer content through the grafting process. Potential Antimicrobial activities of the permethyl ammonium salt forms of chitosan and its grafted copolymers against selected microorganisms were evaluated. The results show that the graft copolymers display better inhibitory effects on the growth of bacteria and some fungi than does chitosan.