01.02.2017 | Original Paper | Ausgabe 10/2017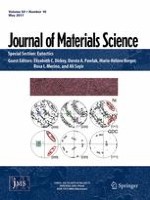 Chloride absorption by nitrate, nitrite and aminobenzoate intercalated layered double hydroxides
Zeitschrift:
Autoren:

Jinxia Xu, Yingbin Song, Qiping Tan, Linhua Jiang
Abstract
The fabrication of Mg–Al layered double hydroxides (LDHs) intercalated with NO
3
−
, NO
2
−
and
p
-aminobenzoate and comparative investigation on their chloride absorption in aqueous solutions have been performed in this paper. The Mg–Al-LDHs intercalated with NO
2
−
and
p
-aminobenzoate were synthesized by anion exchange in the host materials, Mg–Al–NO
3
LDH, which was prepared by a coprecipitation method. Also, the equilibrium isotherms of chloride adsorption on the as-obtained LDHs were measured. Besides, their morphologies and microstructures were observed using scanning electron microscopy, X-ray diffraction instrument, infrared spectroscopy and thermal analysis. It has been found that the as-obtained LDHs are well crystallized and have a very large distribution of size. The basal spacing of hexagonal plates is dependent on the types of intercalated anions. Langmuir isotherm is more suitable to fit the experimental data of chloride adsorption than Freundlich isotherm. Compared to Mg–Al–NO
3
LDH, the maximum adsorption capacity of chloride is slightly reduced for Mg–Al–NO
2
LDH, but remarkably decreased for the LDH intercalated with
p
-aminobenzoate anions.