20.03.2017 | Ausgabe 3/2017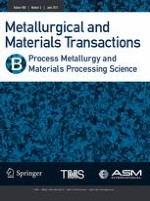 Chromium Extraction
via

Chemical Processing of Fe-Cr Alloys Fine Powder with High Carbon Content
Zeitschrift:
Autoren:

D. M. Torres, R. C. S. Navarro, R. F. M. Souza, E. A. Brocchi
Wichtige Hinweise
Manuscript submitted July 12, 2016.
Abstract
Ferrous alloys are important raw materials for special steel production. In this context, alloys from the Fe-Cr system, with typical Cr weight fraction ranging from 0.45 to 0.95, are prominent, particularly for the stainless steel industry. During the process in which these alloys are obtained, there is considerable production of fine powder, which could be reused after suitable chemical treatment, for example, through coupling pyrometallurgical and hydrometallurgical processes. In the present study, the extraction of chromium from fine powder generated during the production of a Fe-Cr alloy with high C content was investigated. Roasting reactions were performed at 1073 K, 1173 K, and 1273 K (800 °C, 900 °C, and 1000 °C) with 300 pct (w/w) excess NaOH in an oxidizing atmosphere (air), followed by solubilization in deionized water, selective precipitation, and subsequent calcination at 1173 K (900 °C) in order to convert the obtained chromium hydroxide to Cr2O3. The maximum achieved Cr recovery was around 86 pct, suggesting that the proposed chemical route was satisfactory regarding the extraction of the chromium initially present. Moreover, after X-ray diffraction analysis, the final produced oxide has proven to be pure Cr2O3 with a mean crystallite size of 200 nm.