01.08.2014 | Original Paper | Ausgabe 4/2014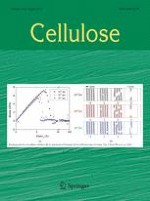 Chromophores in cellulosics, XI: isolation and identification of residual chromophores from bacterial cellulose
Zeitschrift:
Autoren:

Thomas Rosenau, Antje Potthast, Karin Krainz, Hubert Hettegger, Ute Henniges, Yuko Yoneda, Christian Rohrer, Alfred D. French
Abstract
In the present work, bacterial cellulose (BC) was analyzed for its chromophore content with the chromophore release and identification (CRI) method. In aged BC, seven chromophores were unambiguously identified, despite their very low (ppb) presence. The compounds contain 2-hydroxy-[1,4]benzoquinone, 2-hydroxyacetophenone and 5,8-dihydroxy-naphthoquinone moieties. These three classes of key chromophores had also been found in other celluloses such as bleached pulp, fiber and derivatives. The detection of chromophores in lignin-free BC confirms that the chromophores are formed from oxidized and degraded carbohydrate material rather than lignin fragments. Samples that were insufficiently purified before the aging step also yielded three
N
-heterocyclic compounds. They originated from tryptophan moieties in residual adhering protein and protein degradation products.
N
-Heteropentacycles
9
and
10
showed strong adsorption onto cellulosic surfaces, and that adsorption aided oxidation of cyclohexadiene derivative
9
into the corresponding aromatic and intensely yellow system
10
, consistent with the strain-induced bond localization theory. In purified fresh BC, no chromophores were detectable by the CRI method. The present contribution is the first report on defined chromophoric structures isolated from BC.