01.10.2016 | Research Paper | Ausgabe 10/2016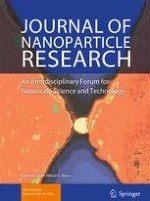 Chronic exposure to zinc oxide nanoparticles increases ischemic-reperfusion injuries in isolated rat hearts
Zeitschrift:
Autoren:

Tamara Milivojević, Damjana Drobne, Tea Romih, Lilijana Bizjak Mali, Irena Marin, Mojca Lunder, Gorazd Drevenšek
Abstract
The use of zinc oxide nanoparticles (ZnO NPs) in numerous products is increasing, although possible negative implications of their long-term consumption are not known yet. Our aim was to evaluate the chronic, 6-week oral exposure to two different concentrations of ZnO NPs on isolated rat hearts exposed to ischemic-reperfusion injury and on small intestine morphology. Wistar rats of both sexes (
n
= 18) were randomly divided into three groups: (1) 4 mg/kg ZnO NPs, (2) 40 mg/kg ZnO NPs, and (3) control. After 6 weeks of treatment, the hearts were isolated, the left ventricular pressure (LVP), the coronary flow (CF), the duration of arrhythmias and the lactate dehydrogenase release rate (LDH) were measured. A histological investigation of the small intestine was performed. Chronic exposure to ZnO NPs acted cardiotoxic dose-dependently. ZnO NPs in dosage 40 mg/kg maximally decreased LVP (3.3-fold) and CF (2.5-fold) and increased the duration of ventricular tachycardia (all
P
< 0.01) compared to control, whereas ZnO NPs in dosage 4 mg/kg acted less cardiotoxic. Goblet cells in the small intestine epithelium of rats, treated with 40 mg ZnO NPs/kg, were enlarged, swollen and numerous, the intestinal epithelium width was increased. Unexpectedly, ZnO NPs in both dosages significantly decreased LDH. A 6-week oral exposure to ZnO NPs dose-dependently increased heart injuries and caused irritation of the intestinal mucosa. A prolonged exposure to ZnO NPs might cause functional damage to the heart even with exposures to the recommended daily doses, which should be tested in future studies.