01.07.2020 | Original Article | Ausgabe 13/2020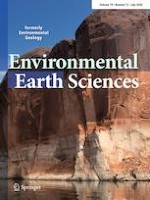 Chronological evolution of the channel functional units in association with palaeo-hydrogeomorphological environment in the ancient delta fan of Subarnarekha basin, India
Zeitschrift:
Autoren:

Subrata Jana, Ashis Kumar Paul
Wichtige Hinweise
Publisher's Note
Springer Nature remains neutral with regard to jurisdictional claims in published maps and institutional affiliations.
Abstract
The assessment of chronological evolution of the channel functional units is an imperative aspect to understand the channel avulsion nature and planform change. In this study, the channel functional units (channel, aggradational and abandoned) and their distinct micro-morphologies have been assessed through the landuse and landcover classification, terrain analysis, lithostratigraphic records and fluctuating flow regimes in the ancient delta fan of the Subarnarekha basin. The distinct micro-morphological features of the functional units have been formed and evolved under the dominance of fluvial environment coupled with the fluctuating strength of Indian summer monsoon (ISM) and regression phase of sea-level since 6000 years before present (YBP). However, the borehole lithostratigraphic records reveal that the ancient delta fan was formed under the different fluvio-marine depositional environments of the marine transgression, regression and stillstand phases since 32,200 YBP. The riverbed of the recent course is ascended than the palaeo-courses due to declining trends of water discharge and sediment load in the last four decades as well as during the late Holocene mega-drought event. The channel unit and abandoned unit have been transformed into the aggradational unit with micro-morphologies of point bar, fill-terrace, and natural levee under the influence of channel avulsion and bulk of sediment deposition related to the fluctuating flow regime and base level of erosion. The micro-morphological features (marshes, oxbow lakes and meander neck-cuts) of the abandoned unit have been modified from the channel unit after diversion of the recent course from the palaeo-course owing to extreme discharge and valley drowning during lowstand.