2017 | OriginalPaper | Buchkapitel
Cities as Visuospatial Networks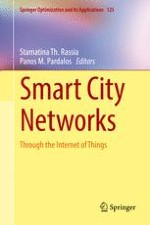 Erstes Kapitel lesen
Autoren: A. Natapov, D. Fisher-Gewirtzman
Abstract
Current methods used in the study of urban systems are based mostly on economic and transportation demands and ignore human spatial cognition processes, like visual perception, while cognition is an active player in the evolution and dynamics of urban space.
This chapter presents a collection of interdisciplinary studies that link visuospatial cognition to urban dynamics. These are located at the intersection of three rapidly developing scientific, technological, and practical fields: spatial cognition (acquisition and utilization of spatial knowledge), complexity science (graph and network theories), and smart cities (urban planning and design-enhancing digital technologies). We use two complementary methods: (1) Spatial graph-based analysis – Urban environment is represented as a chain of navigational decisions in a form of mathematical graphs (or networks). Then several centrality measures from the graph theory are applied to the constructed graphs to evaluate structural position of urban locations. (2) Computational simulation of the visual search: Pedestrian visual search for urban locations is conceptualized as a stochastic process and modeled by random walk simulation. Results of the simulation are used to quantify visual accessibility of diverse urban settings.
Taken together, suggested methods construct a novel cognitive paradigm in the study of urban systems and urban modeling. The results of the studies present effective tools for exploring various scenarios of urban sustainable design, reshaping infrastructure, mobility, and architecture of our cities.