21.09.2018 | Chemical routes to materials | Ausgabe 2/2019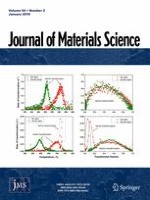 Citrate-based fluorophores in polymeric matrix by easy and green in situ synthesis for full-band UV shielding and emissive transparent display
Zeitschrift:
Autoren:

Heng Chen, Rui Li, Xiayi Xu, Pengchao Zhao, Dexter S. H. Wong, Xiaoyu Chen, Shaojun Chen, Xiaohui Yan
Wichtige Hinweise
Electronic supplementary material
Abstract
Developing easy and green strategy to prepare functional materials with outstanding properties based on naturally abundant and environmentally friendly raw materials is highly desirable for sustainable development. Herein, an easy and green strategy was reported to in situ synthesize and disperse citrate-based fluorophores (CFs) in polyvinyl alcohol (PVA) matrix. By a simple heating treatment of the mixture aqueous solution of citric acid/cysteine/PVA, CF–PVA blends were obtained in the form of homogeneous transparent films or coatings. Due to the effective UV absorption of CFs, CF–PVA film and coating exhibited full-band blocking of UV irradiation while still allowing high transmission of visible light. Protection by CF–PVA film and coating effectively reduced UV-induced rhodamine B degradation and cell death. Furthermore, the down-conversion property of CF–PVA coating enables conversion of invisible UV irradiation into visible blue light emission, and we further demonstrated the application of CF–PVA coating for fabricating emissive transparent display. Given the abundant and environmentally friendly raw materials, easy and green preparation, excellent UV-blocking, and converting properties, we believe that the CF–PVA blends are promising for applications in UV shielding, transparent display, and energy harvesting.