04.01.2020 | Methodologies and Application | Ausgabe 16/2020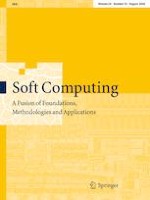 Classification of bearing vibration speeds under 1D-LBP based on eight local directional filters
Zeitschrift:
Autoren:

Yılmaz Kaya, Melih Kuncan, Kaplan Kaplan, Mehmet Recep Minaz, H. Metin Ertunç
Wichtige Hinweise
Publisher's Note
Springer Nature remains neutral with regard to jurisdictional claims in published maps and institutional affiliations.
Abstract
Bearings are the most commonly used machine element in order to reduce rotational friction in machines and to compensate radial and axial loads. It is very important to determine the faults in the bearings in terms of the machine health. In order to accurately diagnose bearing-related faults with traditional machine learning methods, it is necessary to identify the features that characterize bearing fault most accurately. Therefore, a new feature extraction procedure has been proposed to determine the vibration signal velocities of different fault sizes and types in this study. The new approach has been employed to obtain features from the vibration signals for different scenarios. After different filtering based on 1D-LBP method, the F-1D-LBP method was used to construct feature vectors. The filters reduce the noise in the signals and provide different feature groups. In other words, it is aimed to generate filters in order to extract different patterns that can separate signals. For each filter applied, different patterns can be obtained for the same local point on signals. Thus, the signals can be represented by different feature vectors. Then, by using these feature groups with various machine learning methods, vibration velocities were separated from each other. As a result, it was observed that the obtained feature had promising results for classification of bearing vibrations.