08.07.2020 | Ausgabe 10/2020 Open Access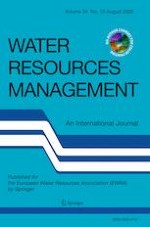 Classification of Extreme Rainfall for a Mediterranean Region by Means of Atmospheric Circulation Patterns and Reanalysis Data
Zeitschrift:
Autoren:

Giuseppe Cipolla, Antonio Francipane, Leonardo Valerio Noto
Wichtige Hinweise
Electronic supplementary material
Publisher's Note
Springer Nature remains neutral with regard to jurisdictional claims in published maps and institutional affiliations.
1

Introduction

Since the impacts of climate change on the environment have been constantly rising over the last decades, scientists have paid much attention to understand the effects of this phenomenon (Kunkel et al.

1999

). Climate change leads to different kinds of extremes (Hegerl et al.

2014

), such as heavy rainfall events and droughts, which may cause several damages such as loss of human lives and economic damages. Dai (

2011

) presented a review of the recent scientific literature about drought, affirming that global warming has contributed to the enhancement of the atmospheric water demand and to the increase of the expected arid areas for the twenty-first century in several continents. Aronica et al. (

2002

) and Arnone et al. (

2013

) studied the changes in rainfall statistics over Sicily (Italy) finding out an increasing trend in the occurrence of shortest-duration rainfall events. Furthermore, many other studies demonstrated that extremes are tending to increase their frequency of occurrence and intensity (Collins et al.

2013

; Field et al.

2012

). In order to determine the response of precipitation extremes to global warming, the

INTElligent use of climate models for adaptioN to non-Stationary hydrological Extremes

(INTENSE) project aimed to figure out the relationship between large-scale warming, atmospheric circulation, and short-duration extreme rainfall events (Blenkinsop et al.

2018

). To achieve this goal, the INTENSE project based on a huge database of sub-daily rainfall observations at the global scale. The dataset, along with advanced climate models, has been employed to better understand which are the drivers of extreme rainfall events and look at the influence of large-scale atmospheric circulation and local thermodynamics on the extremes.

With regard to the broad-scale atmospheric circulation, Neal et al. (

2016

) presented some weather circulation patterns (WPs) derived by the

UK-Met Office

. Each WP was representative of a specific type of atmospheric circulation over Europe for each day ranging between 1850 and 2016. Starting from the daily Mean Sea Level Pressure (MSLP) data of the European and North Atlantic Daily to Multidecadal Climate Variability (EMULATE) database, Fereday et al. (

2017

) analyzed how the atmospheric circulation influences the trends in regional precipitation by applying a cluster analysis to the data. This analysis highlighted that the circulation variability is one of the drivers of a great part of the changes in European precipitation. Richardson et al. (

2018

) connected the WPs with daily precipitation and with some indexes related to drought, such as the Standardized Precipitation Index (SPI) and the Drought Severity Index (DSI), for the UK, distinguishing between WPs linked to precipitation and WPs connected with drought.

When heavy rainfall events present high intensity and short duration they can be often associated with convective events. Due to their characteristics, especially when they hit small catchments with low times of concentration, they can result in flash floods (Forestieri et al.

2016

; Noto and La Loggia

2009

) and cause economic damages and, more relevantly, human lives losses. The occurrence of these kinds of phenomena in many areas of Europe over the last few years, has contributed to raising the importance of understanding which factors could be recognized as drivers of these events. Gabriele and Chiaravalloti (

2013

) set up a method to distinguish between convective and stratiform rainfall events, by using two different reanalysis indexes, the

Convective Available Potential Energy

(CAPE) and the divergence of moisture flux, named

Q vector Divergence

(QD). In their work, the authors performed a regionalization on the base of the daily rainfall data recorded by several gauges located throughout Italy. By defining a joined condition with the CAPE and QD, they were able to distinguish between regions characterized by the occurrence of convective rainfall and regions mainly affected by stratiform rainfall events. By associating some indexes with these rainfall events, the authors found that high values of CAPE correspond to strong convective events that they called tornado-like events. Iturrioz et al. (

2007

) computed the QD from the geopotential height and temperature and analyzed some recorded precipitation data for some gauges across Spain, finding out that the dynamic instability, and thus the occurrence of stratiform rainfall events, is connected with negative values of QD.

Despite advances made in recent years, the distinction between convective and stratiform precipitation is not trivial and still today a challenge (Llasat et al.

2005

), since it is connected with the characteristics of rainfall events, such as the rain rate and duration, which are usually different for a convective and a stratiform precipitation (Gaál et al.

2014

). While some studies tried to establish a criterion to make a net distinction between convective and stratiform rainfall events (Gabriele and Chiaravalloti

2013

; Lang et al.

2003

; Tremblay

2005

), some others affirm that a so clear-cut separation in only two classes is improper (Houze

1997

; Kyselý et al.

2016

). With this regard, Houze (

1997

) affirmed that, in some cases, convective phenomena are embedded in the same stratiform regions. This happens in the older convection regions, where the humid air moves slower upwards than in the younger convective regions. In this case, the radar echoes are similar to those of a stratiform precipitation, even though they also present a convective component. In this respect, Rulfova and Kyselý (

2013

) introduced a class of mixed\unresolved events to take into account all those events that, according to their algorithm, could be classified as both convective and stratiform events or do not have a sufficiently clear distinction between those two classes.

In this work, extreme precipitation events for the Sicily (Italy) have been connected with some UK centered WPs to answer the following research questions: can the atmospheric circulation be recognized as a driver of severe rainfall events? Since even the Sicily has been experimenting heavy rainfall events and consequent flash floods in the last years, is it possible to define some specific schemes of UK centered WPs that are responsible for leading to the occurrence of AMAX in Sicily? Is it possible to identify an AMAX seasonality and relate it with some WPs? Finally, is it possible to involve some reanalysis data, such as the CAPE and the

Vertical Integral of Divergence of Moisture Flux

(VIDMF) in the assessment of convective and stratiform AMAX?

In order to answer these questions, WPs have been used as precursors of heavy rainfall events (i.e., AMAX). A novel criterion, based on a fuzzy approach, valid for different geographical areas of Sicily, is here presented to distinguish convective from stratiform and mixed\unresolved rainfall AMAX and connect them to their seasonality. This criterion could be, if well calibrated, extended to other regions of the globe and used as a tool to predict potentially heavy rainfall events.
3

Methodology and Results
4

Conclusions

A connection between rainfall AMAX and the circulation WPs derived by Neal et al. (

2016

) for Sicily is here presented.

The analyses carried out on the whole sample of the pooled AMAX and on the WP 8,x highlighted the major contribution of WP 8,1 to the occurrence of all the pooled AMAX at all durations. This result is confirmed by the Bayesian approach, which recognizes WP 8,1 as the one that leads to the occurrence of most of the AMAX for the different durations.

A further analysis made by splitting the year into two periods showed that the percentage of AMAX occurred during the

summer period

decreases as the duration increases with the highest value reached at the 1-h duration, while the percentage of AMAX occurred in the

winter period

has an increasing pattern with the duration and reaches the maximum at 24-h duration. In spite of this, for both the

summer

and

winter periods

, WP

8,1

leads to most of the AMAX at all durations, even though the contribution of WP

8,2

to the AMAX occurrence in the

winter period

becomes relevant as well. In Neal et al. (

2016

), WP

8,1

is classified as a NAO- (negative

North Atlantic Oscillation

) pattern, in which Sicily is located in correspondence of a negative MSLP. This pattern results in a displacement of air mass from the North Atlantic Ocean to the south of Europe, where Sicily is located, bringing warm and humid air that probably causes high intensity and short duration rainfall events. Furthermore, WP

8,1

is the most frequent pattern interesting Europe in the period from 1850 to 2016 and, for this reason, it matches the occurrence of most of the AMAX. As opposite to WP

8,1

, WP

8,2

is classified as a NAO+ (positive

North Atlantic Oscillation

) pattern, which leads to cold and dry weather conditions in Sicily because of the humid and wet airflow blowing towards the North-East of Europe.

A criterion to distinguish convective from stratiform and mixed\unresolved components of AMAX, performed through a traditional and a fuzzy logic approach, by using two reanalysis indexes demonstrated a predominance of hourly convective AMAX for all the gauges considered, over the stratiform events, for the

summer period

, thus reflecting the characteristics of the Mediterranean climate. As the rainfall duration increases, the number of stratiform AMAX events increases, especially in the gauges located in the East of Sicily, even if all the gauges present a high percentage of mixed\unresolved events. Compared to the traditional approach, which led to different threshold values between the six gauges considered, the fuzzy logic is a more flexible approach, since the defined membership functions are valid for all the rain gauges considered. This approach can be extended to the whole island and, if well calibrated, to other areas of the world.

We found that the most severe hourly AMAX are prevalently caused by the WP

8,1

during the

summer period

and the greatest part of them was classified as convective because of their high values of CAPE and VIDMF. This confirms the effects of WP

8,1

on the Mediterranean area, namely the transport of warm and humid air, resulting in convective precipitation events, characterized by short duration and high intensity.

In conclusion, if well calibrated for a given area/region, the approach developed could be helpful to forecast the occurrence of severe rainfall events by simply monitoring the atmospheric circulation patterns and the two reanalysis indexes here taken into account.
Acknowledgements
Open access funding provided by Università degli Studi di Palermo within the CRUI-CARE Agreement.
Compliance with Ethical Standards
Conflict of Interest
None.
Open Access
This article is licensed under a Creative Commons Attribution 4.0 International License, which permits use, sharing, adaptation, distribution and reproduction in any medium or format, as long as you give appropriate credit to the original author(s) and the source, provide a link to the Creative Commons licence, and indicate if changes were made. The images or other third party material in this article are included in the article's Creative Commons licence, unless indicated otherwise in a credit line to the material. If material is not included in the article's Creative Commons licence and your intended use is not permitted by statutory regulation or exceeds the permitted use, you will need to obtain permission directly from the copyright holder. To view a copy of this licence, visit
http://​creativecommons.​org/​licenses/​by/​4.​0/​
.
Publisher's Note
Springer Nature remains neutral with regard to jurisdictional claims in published maps and institutional affiliations.