2016 | OriginalPaper | Buchkapitel
Classification of Lower Montane Evergreen Forests in Southern India and Sri Lanka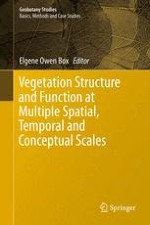 Erstes Kapitel lesen
Autoren: A. M. Greller, D. S. A. Wijesundara, H. M. Jayasuriya
Abstract
Lower Montane Evergreen Mixed Forests (MEM) in Sri Lanka and South India are composed of tropical taxa. They occur at mid-elevations, as high as 900–1400 m above sea level, in the three main mountain massifs of Sri Lanka and in several ranges of the Western Ghats in nearby southern Kerala and adjacent Tamil Nadu (India). We report on the quantitative floristic composition of stands of this altitudinal zonal formation and determine the dominant arborescent taxa. In all we recognize 12 distinct forest types, 7 in the Western Ghats and 5 in Sri Lanka.
In South India we sampled 21 stands in Kerala, of which 12 were located on Ponmudi Mountain and three in Tamil Nadu. In all, 117 species were recorded, in 98 genera and belonging to 40 families. MEM forests were classified by cluster analysis into four types on Ponmudi and three additional types in the other locations sampled in South India. The dominance of
Vateria indica
(Dipterocarpaceae) in one of the Ponmudi stands indicates a MEM stand that is transitional to the lowland tropical rainforest. The following families are represented as canopy dominants in one or more of the seven Lower Montane (MEM) types in south India: Myrtaceae, Clusiaceae, Sapindaceae, Ebenaceae, Bombacaceae, Anacardiaceae, Sapotaceae; as well as understory dominants in the families Xanthophyllaceae, Fabaceae and Euphorbiaceae.
In Sri Lanka, 120 species of flowering plants, in 80 genera and 40 families, were recorded in 10 stands. Of these, 49 species (41 %) are endemic to Sri Lanka. Our MEM stands are classified into five forest types by cluster analysis. These forests are mainly enriched by taxa common in the lowland "Wet Zone" and, to a markedly lesser degree, by those from the (Upper) Montane Evergreen forests. The occurrence of
Doona
(
Shorea
) spp. at certain sites represents a variation of the MEM forests, apparently influenced by specific environmental factors. MEM forests have been and still are widely exploited for the cultivation of cardamom (
Elettaria cardamomum
), which has resulted in massive disturbance to a forest type that is unusually rich in endemics. Numerous understory taxa and perhaps some canopy taxa are absent from many sampled stands. The following families are dominants in our Sri Lanka stands of Lower Montane Forest: Myrtaceae, Anacardiaceae, Clusiaceae, Elaeocarpaceae, Moraceae, Myristicaceae, Lauraceae, Euphorbiaceae, Sapotaceae, Bombacaceae, Ebenaceae. All of these 11 families can be considered characteristic dominants of Lower Montane forests in the adjacent Western Ghats. These South Indian-Sri Lankan lower-montane mixed forests have most families and many genera in common with those described for northeastern Queensland, Australia, where dipterocarps are absent.