25.03.2015 | Ausgabe 8/2019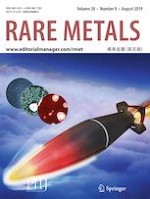 Cleaning of high antimony smelting slag from an oxygen-enriched bottom-blown by direct reduction
Zeitschrift:
Autoren:

Hong-Lin Luo, Wei Liu, Wen-Qing Qin, Yong-Xing Zheng, Kang Yang
Abstract
Cleaning of high antimony smelting slag from an oxygen-enriched bottom-blown was tested by direct reduction in a laboratory-scale electric furnace. The effects of added CaO, mass ratio of coal (experimental) to coal (theoretical) (
ω
) and the slag type on the reduction procedure were considered. The contents of Sb and Au were investigated. Iron contamination of the metal phase was analyzed as this may impede the economical viability of this process. The initial slag, coal and CaO were mixed and homogenized before charging into the furnace, and the residual slag averagely contains 1.26 g·ton
−1
Au and 1.17 wt% Sb. However, the iron contamination of antimony alloy becomes unacceptably high in this case as the metal phases contain up to 10 wt% Fe. In the slag system with mass ratio of SiO
2
:FeO:CaO = 45:27:18, the residual slag obtained after reduction under these conditions averagely contains <1 g·ton
−1
Au and <1 wt% Sb, and the metal phase contains <7 wt% Fe. The recoveries of Au in the metal phase are >98 % in all experiments which is proved to be an economic and cleaning process.