01.09.2014 | Report | Ausgabe 5/2014 Open Access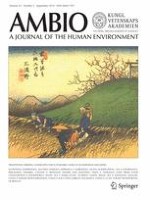 Climate Change and Agricultural Development: Adapting Polish Agriculture to Reduce Future Nutrient Loads in a Coastal Watershed
Zeitschrift:
Autoren:

Mikołaj Piniewski, Ignacy Kardel, Marek Giełczewski, Paweł Marcinkowski, Tomasz Okruszko
Wichtige Hinweise
Electronic supplementary material
The online version of this article (doi:
10.​1007/​s13280-013-0461-z
) contains supplementary material, which is available to authorized users.
Introduction
Aquatic eutrophication caused by excessive loads of biogenic substances transported by rivers to sea waters, is now the primary environmental issue related to the Baltic Sea, a problem that intensified during the 20th century due to rapid economic development in the region (Glasby and Szefer
1998
). The increasing scale of eutrophication forced members of society, policy-makers, and researchers to adopt elaborate mechanisms to reduce pollution sources in the Baltic Sea Basin (BSB) and thus prevent further deterioration of sea water quality. Among the proposed measures, the most significant one is the Baltic Sea Action Plan (BSAP) (HELCOM
2007
), which combats eutrophication by reducing biogenic substances in rivers discharging into the sea. As one of the BSAP signatories, Poland is obliged to implement a policy that will stimulate activities that will achieve the objectives of this plan. An additional stimulus for implementing measures aimed at reducing nutrient loads in Polish watersheds was the country's acceptance as a member of the EU in 2004 and the related transposition of regulations resulting from the Water Framework Directive (2000) and the Nitrates Directive (1991), both aimed at achieving the good ecological status of all bodies of water.
The proposed measures seem to be effective, as a reduction of the total nitrogen (TN) and phosphorous (TP) loads reaching the Baltic Sea has been observed at different scales: the entire basin (HELCOM
2011
) and the Vistula and Odra basins (Kowalkowski et al.
2012
). In Poland, the reduction is predominantly related to a radical modernization of wastewater treatment plants that took place over the past two decades, while Poland's share of the generated load remains the largest among all the Baltic countries, when expressed in percentages (Kowalkowski et al.
2012
). TN and TP loads to the Baltic Sea originate mainly from agricultural diffuse sources (HELCOM
2011
), hence European leaders have shifted their focus to agriculture with a number of research programs executed recently (e.g., Baltic Deal, Baltic Compass, Baltic Manure, BERAS Implementation, etc.) in order to achieve environmental targets. However, questions remain concerning the estimation of potential loads related to different alternatives for Polish agricultural development. The future trends related to driving forces, such as climate, land use, demography, global food market demand, competitiveness of Polish farmers in the EU market, and the non-agricultural sector's demand for land are far from being properly understood and quantified. One of the methods that can be employed to move forward in bringing together and quantifying these trends is multidimensional scenario development, using current state-of-the-art approaches recently set by the SCENES project (Kämäri et al.
2011
). Quantification of the potential range of future nutrient loads generated from rural areas as well as the assessment of the efficiency of measures that could be applied in agriculture to combat eutrophication in the forthcoming decades can be done using a combination of scenario studies with mathematical models that are capable of evaluating the effect of changing climate, population, land use, and other important drivers on the state of the environment. This is also a topic about which science could provide needed insight during the policy-making process.
Recent studies using state-of-the-art models carried out at the BSB level (Arheimer et al.
2012
; Meier et al.
2012
) show quite different results concerning both the effect of climate change on nutrient loads and the efficiency of adaptation measures or best management practices (BMPs). Hence, smaller-scale studies using physically based models that can benefit from more reliable data are required to better understand future impacts in this region. Large-scale studies are of interest to stakeholders and decision-makers at the EU or regional level, while the focus of stakeholders and decision-makers at the provincial level where the decision-making process is often implemented in practice is directed toward small-scale studies. This study was carried out in the Reda watershed situated in northern Poland (Fig.
1
), draining an area of 482 km
2
to the Puck Lagoon (inner Puck Bay, part of the Gulf of Gdańsk). Its objective was to combine state-of-the-art modeling with multidimensional scenario development in order to: (1) quantify nutrient loads under future climate and land use scenarios until 2050 and (2) estimate the effect of agricultural adaptation measures aimed at nutrient load reduction.
×
Materials and Methods
Results
Reference Conditions
The full description of the model calibration and validation results is given in the
ESM
, part D, while a short summary is given below. The values of goodness-of-fit measures at Wejherowo indicated good model performance for discharge and N-NO
3
in both calibration and validation periods (Table
1
). However, for TSS and P-PO
4
load, the results for the validation period were remarkably worse than the results for the calibration period. We observed that the measured N-NO
3
concentrations had a very similar seasonal pattern in calibration and validation periods in contrast to TSS and P-PO
4
concentrations. We discuss this issue in further detail in the
ESM
. Despite low
R
2
and NSE in the validation period, acceptable values of PBIAS and of the uncertainty measures in the validation period indicated that the model can be used for scenario simulations of P-PO
4
loads.
We wrote parameters related to the best simulation found using SUFI-2 (cf.
ESM
, Tables
S1
–
S4
) into the model and executed a 20-year-long simulation run (1991–2010, including a 3-year warm-up period). This simulation run defined the baseline scenario, representing the current conditions in the Reda watershed (Table
4
). Because there was a very low proportion of surface runoff in water yield (8 %) we found that an area-specific load of N-NO
3
in surface runoff was only 0.44 kg N ha
−1
year
−1
, compared to 2.29 and 1.15 kg N ha
−1
year
−1
in subsurface runoff (this includes outflow from drainage ditches) and baseflow, respectively. This difference can be explained by high percolation of dominating sandy soils contributing to high N-NO
3
leaching into the shallow aquifer, and by relatively high slopes in the study area contributing to high N-NO
3
loading in subsurface runoff. Mean annual TSS loads were in accordance with other data sources (Szymczak and Piekarek-Jankowska
2007
) as were mean nutrient loads
2
at the watershed outlet.
Table 4
Average annual basin values of water and nutrient balance in the baseline period
Variable

Value

Water balance (mm)

Precipitation

793

Snowmelt

58

Surface runoff

25

Subsurface runoff

44

Tile drainage

14

Baseflow

206

Total runoff

299

Percolation to the shallow aquifer

250

Actual evapotranspiration

455

PET

684

Area-specific loads (kg ha−1 year−1)

Sediment (denudation index)

524

Organic N

1.41

Organic P

0.28

N-NO3 in surface runoff

0.44

N-NO3 in subsurface runoff

2.29

Soluble P

0.03

N-NO3 leaching to groundwater

29.3

N-NO3 in baseflow

1.15

Annual loads at watershed outlet (t year−1)

TSS

2.24

N-NO3

168

P-PO4

16.3
Nutrient Loads in Future Scenarios
The results presented in Fig.
5
(calculated using Eq.
1
) show that under the BAU scenario without considering climate change (BAU-2050), nutrient loads and leaching remain on a similar level as that occurring at the present time. In contrast, large changes are expected under the Major Shift in Agriculture scenario (MSA-2050). While both BAU-2050 and MSA-2050 are rather neutral regarding water balance, under future climate (CC-2050,) mean discharge is expected to rise by 22 %, which has a direct effect on projected loads. This increase can be attributed mainly to projected precipitation increase, as projected temperature increase is rather moderate under the A1B scenario (cf. Fig.
3
) and causes mainly the advancing date and reduced amount of spring snowmelt. Rising CO
2
causes a decrease in potential evapotranspiration (PET), whose magnitude is larger than an increase in PET caused only by rising temperature.
×
However, the effect of intensified agriculture is clearly larger than the effect of climate change. The results for all studied indicators are amplified when combined effects of climate and land use change are analyzed: For example, under MSA-CC-2050, N-NO3 and P-PO4 loads are expected to rise by 60 and 31 %, respectively.
A direct comparison of BAU-CC-2050 with MSA-CC-2050 shows that under the latter, nitrate water pollution is expected to grow significantly as a result of agricultural intensification (Fig.
5
). Figure
6
illustrates the spatial variability of N-NO
3
leaching to the shallow groundwater aquifer for these scenarios. Comparing these maps with the land cover map (Fig.
1
C) demonstrates that in sub-basins with a high share of arable land, N-NO
3
leaching has increased more than twofold. Such a high increase is well in agreement with the field experiments conducted on loamy sands of southwestern Poland (Soroko and Strzelczyk
2009
). They showed that the rate of slurry application has a very strong effect on N-NO
3
concentration in groundwater and drainage water which can be explained by the fact that light soils are more susceptible to high N-NO
3
leaching due to low denitrification. In the case of P-PO
4
, the difference between BAU-CC-2050 and MSA-CC-2050 is much smaller than for N-NO
3
. It is worth noting that simulated yields and harvest of main crops are expected to be higher by 31 and 49 % in MSA-CC-2050 compared to BAU-CC-2050, respectively, which illustrates another facet of the problem we studied. The highest increase in yield in Danish-model agriculture compared to traditional, extensive agriculture is expected for corn silage (51 %).
×
Efficiency of Adaptation Measures
Figure
7
shows calculated efficiencies in reduction of mean N-NO
3
leaching to the shallow aquifer, of mean N-NO
3
and P-PO
4
loads at the watershed outlet for all studied single measures (VC, BZ, RA, and CW, the latter only for MSA-CC-2050), and for the most efficient combination of measures (VC + BZ + RA under BAU-CC-2050 and VC + BZ + RA + CW under MSA-CC-2050). Measures BZ and CW do not affect N-NO
3
leaching to shallow aquifer at all, which can be explained by the way the model handles these measures. The only measure that has a measurable impact on N-NO
3
leaching is VC. In the case of N-NO
3
loads, however, its effect is dimmed since it does not affect N-NO
3
in surface and subsurface runoff to such extent. Due to the low share of N-NO
3
in surface runoff, measure BZ has a negligible effect on N-NO
3
loads. Both measures VC and BZ are more efficient under MSA-CC-2050 than under BAU-CC-2050, whereas CW under MSA-CC-2050 has an efficiency similar to VC and BZ under this scenario. The results show that the best combination of measures is three times more efficient under MSA-CC-2050 than under BAU-CC-2050. The results are much different for P-PO
4
loads. Measure VC has a very high efficiency under both BAU-CC-2050 and MSA-CC-2050, reaching 30 %, which is related to the anti-erosion function of plant cover in winter. Measures BZ and CW have a higher efficiency than for N-NO
3
loads, while measure RA has negligible efficiency. Consequently, the efficiency of the best combination of measures is driven mainly by VC and is only slightly higher under MSA-CC-2050 than under BAU-CC-2050.
×
The last question to be answered was: What will be the combined effect (calculated using Eq.
3
) of climate change, land use change, and of applying an adaptation measure, compared to the reference state. The answer to this question, illustrated in Fig.
8
, depends on a variable and the scenario. Application of the best combination of measures would bring P-PO
4
loads 17 % below the levels noted in the reference conditions both under BAU-CC-2050 and MSA-CC-2050, which emphasizes the importance of taking proper measures to counteract the expected negative effects. In the case of N-NO
3
there is a noticeable difference between scenarios: under BAU-CC-2050 leaching to groundwater would be nearly the same as today, while under MSA-CC-2050 it would be 55 % higher. N-NO
3
loads to the Puck Lagoon would in both cases be higher, by 14 and 34 %, respectively. This shows that the increase of N-NO
3
loads that is triggered mainly by climate change in the case of BAU-CC-2050 and by agricultural intensification in the case of MSA-CC-2050 (cf. Fig.
5
), would not be remediated by using even the most efficient combination of adaptation measures.
×
Discussion
Conclusion
The results of this study demonstrate that both projected climate change and the level of intensity of agriculture are expected to have a strong effect on nutrient loads in a small-scale Polish watershed to the sea in the 2050s. We found that under projected warmer and wetter climatic conditions the discharge of water, N-NO3, and P-PO4 to the sea would be ca. 20 % higher than at present. On the other hand, a shift in agriculture practices following the intensive Danish model would have a more pronounced effect than climate change on N-NO3 loads and a less pronounced effect than climate change on P-PO4 loads. In contrast, under the BAU scenario that is driven mainly by urban sprawl and a related increase in residential land cover, future levels of nutrient loads would remain nearly unchanged. If we consider that a climate change scenario is inevitable in the future, and that two land use change scenarios are the lower and upper limit of plausible change in agricultural practices in this coastal area, we could conclude that the range of increase in future N-NO3 and P-PO4 loads is from 20 to 60 %, and from 24 to 31 %, respectively. The simulated range of change in N-NO3 leaching to a shallow aquifer is even higher, from 14 to 86 %, which shows that different driving forces impact N-NO3 transport pathways in different ways. It should be stressed that up to date there were no studies that combined both climate and land use change for coastal watersheds in the BSB. However, changes in both driving forces that occur until 2050 are very uncertain, and the scenarios that we used are not comprehensive in considering all possible futures, so future work should focus on a better understanding, reducing and quantifying this uncertainty.
From the four adaptation measures that we considered, using vegetative cover in winter and spring (measure VC) would be the most efficient way to partly remediate the negative effects of climate change and a major shift in agricultural practices. Applying all the measures (VC, BZ, adapting fertilization, and CW) at one time would be even more efficient, especially in the case of P-PO4. However, in the case of N-NO3 we found that even the best combination of adaptation measures would not help to remediate the negative effects caused mainly by climate change (in the case of BAU-CC-2050) and by agricultural intensification (in the case of MSA-CC-2050). On the other hand, a major shift in Polish agriculture, following the Danish model, would bring significantly higher crop yields and a major deterioration in water quality. It also means that appropriate agricultural policy that encourages farmers to shift their attitude from pure profitability to profitability conditioned on environmental quality is of the highest importance for the Baltic Sea health.
In this study, we combined state-of-the-art watershed modeling with multidimensional scenario development to answer questions related to long-term projections of nutrient loads. We emphasized implementing realistic land use scenarios when modeling future, climate change-driven nutrient loads coming from watersheds. This study is an important contribution to the ongoing discussion on combating eutrophication in the Baltic Sea region. As such, it is relevant not only for this region but for all regions that face the choice between intensifying agriculture to improve their economy and conservation measures for protecting their environment.
We found that modeling of P-PO4 with SWAT is more challenging under Polish conditions than modeling N-NO3, presumably due to the higher mobility of nitrate, more complex P cycling in the soil, and because of the generally low magnitude and seasonal variability of measured P-PO4 concentrations. Therefore, future modeling studies in watersheds with dominant diffuse source pollution in this region should try to incorporate better local data on farming practices (including adaptation measures) as well as on soil P status. Regarding the scenario development process, in this study we use a large set of driving forces (e.g., climate, population, land use), but it was not exhaustive. Hence, future studies should attempt to add other aspects that seem relevant to the future of nutrient loads in this region, e.g., development of freshwater aquaculture, shale gas industry growth, or biofuel production.
Acknowledgments
This study was partly funded by the Baltic Compass project (part-financed by the European Union, within the European Regional Development Fund and European Neighbourhood and Partnership Instrument). We would like to acknowledge Halina Burakowska and Włodzimierz Krzymiński from the Institute of Meteorology and Water Management in Gdynia, Waldemar Mioduszewski from the Institute of Technology and Life Sciences in Falenty, Katarzyna Kotewicz and Katarzyna Jasińska from the Pomeranian Agricultural Advisory Board in Gdańsk, Sirkka Tattari from the Finnish Environment Institute, Henrik Eckersten from the Swedish University of Agricultural Sciences and Christen Duus Børgesen from the Aarhus University. We would also like to thank two anonymous reviewers for their constructive comments on earlier draft of the manuscript.
Open Access
This article is distributed under the terms of the Creative Commons Attribution License which permits any use, distribution, and reproduction in any medium, provided the original author(s) and the source are credited.