2016 | OriginalPaper | Buchkapitel
6. Climate Change and the
Use of Force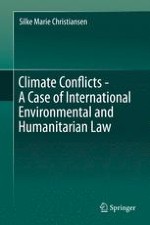 Erstes Kapitel lesen
Autor: Silke Marie Christiansen
Abstract
The idea of sovereignty in international environmental law encompasses that each state, as part of the international community, has the sole competence to regulate its environmental matters, e.g., regarding land, water, territorial sea, or airspace. However, not all activities carried out on territorial grounds remain there. Some activities, especially the kind producing fumes or gases, may have strong effects on areas beyond national jurisdiction. This chapter covers the described pathways from GHG emission via climate change damage to conflict. In this scenario, the damage caused by climate change instantly violates a conflict relevant norm. This scenario takes place on an interstate level. In this context, the so-called
ius ad bellum
, which encompasses the regulations of the UN Charter that ban war, is analyzed.
Ius ad bellum
is better referred to as the
ius contra bellum
because the UN Charter in its article 2.4 proscribes to refrain in international relations from the use or threat of
use of force
. International disputes are to be settled peacefully. The prohibition of the
use of force
is the centerpiece of the UN Charter. Only under very narrow circumstances that resort to force is legal, that is in case of self-defense or when collective action is taken by the UN members. The UN Security Council is the sole organ that may authorize the
use of force
.
Article 2.4 UN Charter is only applicable to conflicts arising between states. Thus, in this context the behavior of one state and the effects of this behavior has on another state are analyzed. In the context of
ius ad bellum
, the work scrutinizes whether climate change imposes force on states in the sense of the UN Charter. In order to ascertain this issue, the analysis has to define the term
force
in international law. The question whether a possible violation of the
prohibition of the use of force
leads to a right to self-defense of affected states is also approached.