2017 | OriginalPaper | Buchkapitel
Climate Change: Outreaching to School Students and Teachers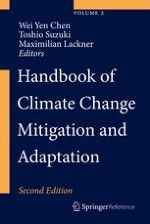 Erstes Kapitel lesen
Autoren: Dudley E. Shallcross, Timothy G. Harrison, Alison C. Rivett, Jauyah Tuah
Abstract
This chapter will describe some simple models that have been used to explain the basic principles of the Earth's climate to primary school students (aged 4–11), secondary school students (aged 11–16), post-16 students (16–19), and the general public (all ages) including those with disabilities. It will then describe a range of hands-on practical activities that demonstrate aspects of the climate system at the appropriate level. Assessment and impact of these activities on the learner's level of cognition are then presented showing that the hands-on approach is a most effective way of communicating such concepts irrespective of the age of the learner. Furthermore, the varied impacts of a "lecture demonstration," that is, a talk where points are illustrated by exemplar experiments that visually portray the science concept, are presented.
The many misconceptions that surround the understanding of the Earth's climate system and how teachers and other science communicators can deal with such issues in a classroom setting are discussed. The sourcing and use of the myriad datasets linked with the Earth's climate that are freely available for schools' projects are discussed with illustrations drawn from projects undertaken already.
Often the impact of such engagement activities on the provider themselves is ignored; here the tangible benefits to all providers involved are discussed with some case studies as illustrations.
Finally, the future prospect for the Earth's climate is nearly always portrayed as negative. In this chapter, the idea of stabilization wedges and ways that the worst-case scenarios for climate change can be averted is discussed. Using a variety of metrics, it is possible for a wide range of learners to appreciate the impact of any mitigation strategy, that is, literally "speaking in a language they can understand."