2015 | OriginalPaper | Buchkapitel
Climate Compatible Physical Infrastructure in Coastal Bangladesh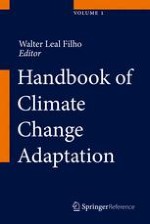 Erstes Kapitel lesen
Autor: Mustafa Saroar
Verlag: Springer Berlin Heidelberg
Abstract
Concerns have been raised to make coastal physical infrastructure climate resilient for enhancing the resiliency of the coastal community. However, so far little has been done in this regard. This paper has threefold objectives. The first is to identify the nature of projects that have been implemented in the coastal areas that put higher emphasis on adaptive capacity maximization and ignored the issues of exposure minimization. Second is to unveil how donors' biases toward adaptive capacity building projects have undermined the climate compatible physical infrastructure development projects until recently. Third is to present the recent development as regards climate compatible physical infrastructure development with the support of the government as well as the donors.
This study is primarily based on review of data sources presented in the full chapter. It follows a meta-analysis technique for review of published studies on building resilient coastal communities in Bangladesh. Particularly studies and reports have focused on projects for adaptive capacity enhancements and exposure and sensitivity minimization through the establishment of physical measures such as coastal roads and highways, rural growth centers/markets, embankments, polders, sluice gates and cyclone/flood shelters, and afforestation program. While analyzing, the DPSIR (driving forces, pressure, state, impacts, responses) framework was used implicitly.
Although coastal infrastructures are in general vulnerable to both intensive risk and extensive risk posed by various hydrometeorological disasters, infrastructures are mostly vulnerable to cyclonic surges due to their higher 44 exposure. Although disrupted infrastructures seriously undermine the people's efforts toward building a resilient community, yet for decades, donors have neglected the issues of climate compatible infrastructure development; rather, they have pumped millions of dollars for community-wide adaptive capacity enhancement through NGOs. However, lately, it was realized that adaptive capacity enhancement alone can do little to build a resilient coastal community unless adequate attention is given for exposure and sensitivity minimization measures. It has appeared that investing in climate compatible infrastructure development could minimize the exposure and sensitivity of coastal people toward the threats of climatic disasters. Therefore, a new form of investment is underway, which will be discussed in the paper to a greater level of detail.