2013 | OriginalPaper | Buchkapitel
Climate Extremes: Challenges in Estimating and Understanding Recent Changes in the Frequency and Intensity of Extreme Climate and Weather Events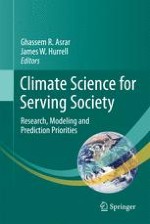 Erstes Kapitel lesen
Autoren: Francis W. Zwiers, Lisa V. Alexander, Gabriele C. Hegerl, Thomas R. Knutson, James P. Kossin, Phillippe Naveau, Neville Nicholls, Christoph Schär, Sonia I. Seneviratne, Xuebin Zhang
Verlag: Springer Netherlands
Abstract
This paper focuses primarily on extremes in the historical instrumental period. We consider a range of phenomena, including temperature and precipitation extremes, tropical and extra-tropical storms, hydrological extremes, and transient extreme sea-level events. We also discuss the extent to which detection and attribution research has been able to link observed changes to external forcing of the climate system. Robust results are available that detect and often attribute changes in frequency and intensity of temperature extremes to external forcing. There is also some evidence that on a global scale, precipitation extremes have intensified due to forcing. However, robustly detecting and attributing forced changes in other important extremes, such as tropical and extratropical storms or drought remains challenging.
In our review we find that there are multiple challenges that constrain advances in research on extremes. These include the state of the historical observational record, limitations in the statistical and other tools that are used for analyzing observed changes in extremes, limitations in the understanding of the processes that are involved in the production of extreme events, and in the ability to describe the natural variability of extremes with models and other tools.
Despite these challenges, it is clear that enormous progress is being made in the quest to improve the understanding of extreme events, and ultimately, to produce predictive products that will help society to manage the associated risks.