01.01.2015 | Original Article | Ausgabe 1/2015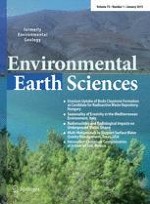 Climatic controls on sap flow dynamics and used water sources of
Salix psammophila

in a semi-arid environment in northwest China
Zeitschrift:
Autoren:

Jinting Huang, Yangxiao Zhou, Lihe Yin, J. Wenninger, Jing Zhang, Guangcai Hou, Eryong Zhang, S. Uhlenbrook
Abstract
Systematic field measurements were conducted to investigate the relationships between the sap flow of Salix bushes (
Salix psammophila
) and climatic variables and the sources of water use in the semi-arid Hailiutu River catchment in northwest China. The statistical analyses identified the controls of climatic factors on sap flow and the water use strategy of Salix bushes in periods characterized by different wetness conditions. Correlation analyses indicate strong positive correlations between diurnal sap flow, net radiation, air temperature and wind speed but a negative correlation with relative humidity. The peak values of sap flow occured at the same time as the peak values of net radiation but a few hours ahead of the peak values of temperature and the relative humidity minimum. Multiple regression equations between diurnal sap flow and climatic factors (i.e., net radiation, temperature, relative humidity and wind speed) can account for more than 80 % of the variations in sap flow. Correlation and multiple linear regression analyses between sap flow, soil water contents and groundwater level were used to quantify the water sources of
S.
psammophila
. The results indicate that Salix bushes can use both soil water and groundwater for transpiration. In the dry periods, the cumulative transpiration of Salix caused a continuous decline of soil water contents and shallow groundwater levels. During rain events, sap flow was very low, but immediately after the rain, the peak value of sap flow increased significantly due to better soil water availability. The correlation and regression analysis identified a strong relationship between sap flow and groundwater levels that fluctuated at depths of 145.5–180.7 cm. Therefore, Salix bushes can be considered as groundwater-dependent plants in the Hailiutu River catchment.