01.08.2016 | Original Article | Ausgabe 8/2016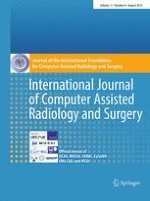 Clinical evaluation of a model-updated image-guidance approach to brain shift compensation: experience in 16 cases
Autoren:

Michael I. Miga, Kay Sun, Ishita Chen, Logan W. Clements, Thomas S. Pheiffer, Amber L. Simpson, Reid C. Thompson
Abstract
Purpose
Brain shift during neurosurgical procedures must be corrected for in order to reestablish accurate alignment for successful image-guided tumor resection. Sparse-data-driven biomechanical models that predict physiological brain shift by accounting for typical deformation-inducing events such as cerebrospinal fluid drainage, hyperosmotic drugs, swelling, retraction, resection, and tumor cavity collapse are an inexpensive solution. This study evaluated the robustness and accuracy of a biomechanical model-based brain shift correction system to assist with tumor resection surgery in 16 clinical cases.
Methods
Preoperative computation involved the generation of a patient-specific finite element model of the brain and creation of an atlas of brain deformation solutions calculated using a distribution of boundary and deformation-inducing forcing conditions (e.g., sag, tissue contraction, and tissue swelling). The optimum brain shift solution was determined using an inverse problem approach which linearly combines solutions from the atlas to match the cortical surface deformation data collected intraoperatively. The computed deformations were then used to update the preoperative images for all 16 patients.
Results
The mean brain shift measured ranged on average from 2.5 to 21.3 mm, and the biomechanical model-based correction system managed to account for the bulk of the brain shift, producing a mean corrected error ranging on average from 0.7 to 4.0 mm.
Conclusions
Biomechanical models are an inexpensive means to assist intervention via correction for brain deformations that can compromise surgical navigation systems. To our knowledge, this study represents the most comprehensive clinical evaluation of a deformation correction pipeline for image-guided neurosurgery.