2017 | OriginalPaper | Buchkapitel
9. Clinical Trials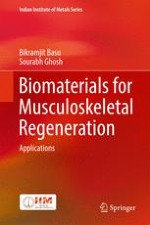 Erstes Kapitel lesen
Autoren: Bikramjit Basu, Sourabh Ghosh
Verlag: Springer Singapore
Abstract
An important concept that has been increasingly recognised in the biomedical research community is the 'bedside-bench-bedside' concept. Once a new biomaterial is found to exhibit a pre-clinically acceptable biocompatibility, the final and the most important stage of research is the clinical trial using ethically-approved protocols. The research on biomaterials should evolve around a specific disease model and, therefore,
in vitro
as well as
in vivo
biocompatibility assessments should involve the use of relevant cell lines or animal models, respectively. This chapter introduces the importance of clinical trials in biomaterials' research, which has received increasing attention, but is yet at a lower intensity than those in the case of new drug designs and development. Further more, various possible avenues to conduct clinical trials are also briefly mentioned. Subsequently, this chapter discusses the concept of Randomised Control Trials (RCTs). Some illustrative examples are also provided to substantiate how clinical trials can establish the clinical efficacy of some of
in vivo
biocompatible implants. The various stages of the clinical trials are also highlighted. One specific example is discussed to describe the rationale for the study of design as well as the outcomes of clinical trials, particularly in the context of dental implants in prosthodontics. Subsequently, the chapter closes with the ethical issues/approval stages to be critically considered prior to conducting any clinical trials. The content and discussion in this chapter should be used only for academic purposes as the ethical approval and associated legal issues involved in clinical trials can vary from country to country. In order to illustrate some published clinical study reports in the field of bone tissue engineering applications are described for the readers to develop an understanding of how to conduct such experiments in clinical settings as well as how to evaluate the outcomes of such important studies. As a cautionary note to the readers, this chapter should neither be used to design any clinical trial study nor does this document have any legal binding.