2015 | OriginalPaper | Buchkapitel
2. Cloning and Expression of β-Glucosidase from Cassava in
Pichia pastoris

GS115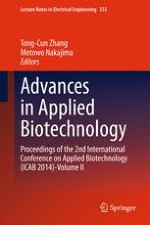 Erstes Kapitel lesen
Autoren: Dongheng Guo, Hongming Tian, Yanshan Xu, Suiping Zheng
Verlag: Springer Berlin Heidelberg
Abstract
β-Glucosidases have been widely applied in the synthesis of alkyl polyglucosides. Studies have shown that cassava β-glucosidase has great synthesis ability. This study has realized the secretion of cassava β-glucosidase gene (
mebgl
) in
Pichia pastoris
GS115. The recombinant yeast expression vector pPICZαA-MEBGL has been successfully constructed. The constructed plasmid was linearized and integrated into
P. pastoris
GS115 strain by electroporation. Positive clones were selected on YPDZ plates and then cultured in shake flask. The supernatant was collected and used for alkyl polyglucoside synthesis. The synthesis reaction was conducted under conditions: 40 °C, pH 5.0, 10 % water content, while the conditions have not been optimized. The results of these studies have indicated that 5ʹAOX promoter was the best one for expression; in the shake flask fermentation, the strain had the maximum hydrolysis activity of 60 U/L, while the optimal temperature was 35 °C, the optimal pH was 6.0,
p
NP-Glc was used as substrate; the molecular mass of the recombinant monomer protein was estimated to be 70 kDa; the recombinant protein showed high ability to transfer glucose from
p
NP-Glc to n-hexyl alcohol with high yields of 60 %, and the yields would substantially increase after optimized. This recombinant cassava β-glucosidase is expected to promote the industrialization process of alkyl polyglucoside enzymatic synthesis.