2018 | OriginalPaper | Buchkapitel
10. Close the Borders!: Dutch Intolerance and Freedom of Speech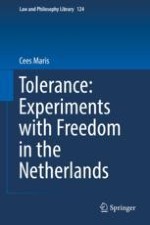 Erstes Kapitel lesen
Autor: Cees Maris
Abstract
This chapter discusses Dutch intolerance of immigrants in relation to the proper limits of free speech: should discriminatory speech be banned? The focus is on the trials involving the Dutch populist politician, Geert Wilders, who is an expert in Islam-bashing. Wilders presents his verbal violence as a matter of self-defence against Islam's
jihad
, a holy war in pursuit of world dominion. Muslim immigrants would be trying to transform the Netherlands into 'Netherarabia'. Wilders' political program builds on Huntington's
The Clash of Civilizations
, a prophecy of a cultural clash between the Western and the Muslim worlds.
However, Huntington wrongly assumes that Muslims share a common civilization. Wilders wrongly equates Islam with its most radical interpretations, notably Islamism. In the Wilders trials, two liberal principles have to be balanced: freedom (of speech) against equality (the right not to be discriminated against). Discriminatory
acts
are harmful and may therefore be prohibited. Discriminatory
speech
can be offensive without affecting the rights of others. Although Wilders' statements about Islam and Muslims are grossly untrue and discriminatory, and therefore morally wrong, the harm and offence principles imply that he should be free to express them.