01.09.2014 | Ausgabe 1/2014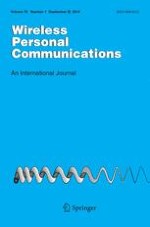 Closed-Form Error Analysis of AF-CARQ with CSI-Assisted Relay over Nakagami-
\(m\)

Fading Channels
Zeitschrift:
Autoren:

Suoping Li, Kun Wu, Yongqiang Zhou, Zufang Dou
Abstract
This paper presents a new Amplify-and-Forward Cooperative Automatic Repeat reQuest protocol with channel state information-assisted relay which is more suitable for the only-read access networks. The channels of any pair of terminations are quasi static flat Nakagami-
\(m\)
fading channels, which are mutually independent and non-identically distributed. Assuming that the coherent equal gain combining is adopted to combine the retransmitted signals from the same link at the destination and selective combining is adopted to the signals from different links. Based on the approximation of product of Nakagami-
\(m\)
variables, we obtain the end-to-end signal-to-noise rate of any link. The closed-form expression of the average bit error rate for several modulation schemes is obtained by analyzing cumulative distribution function (CDF) and Gaussian Q-function. Then we analyze the amount of fading of the fading channels by the
\(n\)
order moment which is obtained by CDF. Numerical simulation results show that the relay node can resist the fading of system effectively comparing with the system without relay node. And with the increasing of the number of transmission, the performance advantage of relay link is more and more obviously. It is better to let the maximum transmission time
\(F=6\)
, which is very useful for improving the transmission efficiency of the truncated ARQ system. The maximum reduction of amount of fading can be reached when
\(t=3\)
, if the total number of transmission is
\(f=6\)
. The number of bits in the frame should not have too big.