15.04.2020 | Ausgabe 4/2020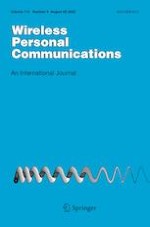 Closed Form Expressions for Average Capacity and Symbol Error Rates Under Different Diversity Techniques Over EGK Fading Under Interference
Zeitschrift:
Autoren:

S. Pratap Singh, Amit Kumar, Saket Mishra, Sanjay Kumar
Wichtige Hinweise
Publisher's Note
Springer Nature remains neutral with regard to jurisdictional claims in published maps and institutional affiliations.
Abstract
In the last decade, many fact-findings have been given on the performance analysis of composite fading channels in wireless communication. Various literatures have presented the performance analysis which includes shaping and severity factors of the multipath and shadowing simultaneously. But very limited amount of literature has included above factors in the path of desired users and interferers both. However, this paper present various closed form expressions of average capacity and symbol error rates (SER) over generic composite fading channel by considering shaping and severity parameters of the multipath and shadowing simultaneously, not only in the desired but in the interfering path as well. Specifically, closed form expressions for average capacity with equal gain combining/maximal ratio combining (MRC) and without diversity scheme have been presented. SER of M-ary phase shift keying and M-ary quadrature amplitude modulation scheme under MRC diversity scheme has been also presented. Moreover, in this paper, performance degradation for interferers and performance improvement for desired users have been researched by decreasing the value of severity of either multipath or shadowing in the path of interferers and desired users respectively. All the proposed results have been numerically compared with the available literatures, showing the perfect agreement.