2018 | OriginalPaper | Buchkapitel
6. Closed Queueing Network Performance Models
\(f{\bigl (G(V,E,N)\bigr )}\)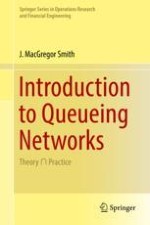 Erstes Kapitel lesen
Autor: J. MacGregor Smith
Overview
In this chapter, we present closed queueing network models for topological network design. We first give a brief historical perspective of the major developments in closed queueing network models and then discuss some of the important principles in modeling with closed network algorithms, the arrival theorem, aggregation, and Norton's theorem. These algorithms are presented for their clarity and directness in the performance and optimization of queueing systems. Networks we will discuss include:
Product-Form Networks:

Starting from the basic exact algorithms developed by Gordon and Newell, we discuss their use and illustrate with several examples and algorithms along with their performance and optimization wherever possible.

Non-product-Form Networks:

General service time distributions are treated next and we present algorithms and optimizations. Because of the complexity of this problem, the focus is mostly on approximation algorithms.

Blocking Networks:

As in open network algorithms, blocking in closed networks is extremely complex, and we present a series of approaches for treating blocking in closed networks.

Transportation and Loss Networks:

Movement of goods from one queue to another in closed networks is of course very important, and we present an approach based upon state-dependent algorithms.
Closed queueing network models are the foundation of many applications and optimization solutions.