01.06.2015 | Ausgabe 3/2015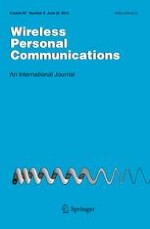 CMT-CC: Cross-Layer Cognitive CMT for Efficient Multimedia Distribution over Multi-homed Wireless Networks
Zeitschrift:
Autoren:

Yuanlong Cao, Changqiao Xu, Jianfeng Guan, Hongke Zhang
Wichtige Hinweise
A preliminary version of this paper appeared in IEEE WCNC 2013, April 7–10, Shanghai, China. This version includes a novel TCP-friendly congestion control mechanism for multimedia streaming and supporting implementation results. This work was supported by the National Basic Research Program of China (973 Program) under Grant 2013CB329102, the National Natural Science Foundation of China (NSFC) under Grant Nos. 61372112, 61232017, the Beijing Natural Science Foundation (4142037), and the Fundamental Research Funds for the Central Universities.
Abstract
This paper proposes CMT-CC, a novel cross-layer cognitive concurrent multipath transfer (CMT) solution necessitating the following aims: (i) cross-layer design, (ii) fairness to TCP-like flows, and (iii) improve users' quality of experience for multimedia streaming service. To satisfy above requirements, a newly cross-layer network condition sensor is designed in CMT-CC in order to cognize network condition and distinguishes the causes of network condition change. An intelligent multimedia content distributor is further introduced in CMT-CC for enabling adaptive multimedia distribution behavior appropriate for the varying wireless network condition. To make CMT-CC preserve fairness to TCP flows on congested links, a weighted moving congestion window based TCP-friendly congestion control mechanism is developed in CMT-CC. The results gained by a close realistic simulation topology show how the proposed CMT-CC solution significantly improves throughput, as well as multimedia delivery performance while still remaining fair to TCP-like flows.