2015 | OriginalPaper | Buchkapitel
Co-expression of Cellulases in the Chloroplasts of
Nicotiana tabacum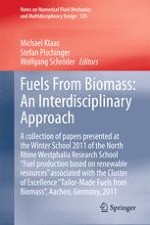 Erstes Kapitel lesen
Autoren: Johannes Klinger, Ulrich Commandeur, Rainer Fischer
Verlag: Springer Berlin Heidelberg
Abstract
Due to the increasing demand for alternative energy carriers, biomass is in the focus of research and industry as raw material for fuels and base chemicals. This has led to an increased use of feedstock for biofuel production and to conflict between using this feedstock for either food or for fuel generation. To avoid this problem, lignocellulose is seen as a promising raw material, as it is not used for food or feed production and harbors high amounts of sugars in form of cellulose and hemicellulose. Currently, the enzymes used for cellulose degradation are mainly produced directly in their natural hosts (e.g.
Trichoderma reesei
) or in genetically altered microorganisms. The high costs for the production of these enzymes make them a major obstacle for the economically feasible use of lignocellulose as a renewable raw material. As an alternative production platform, plants could be used to express these enzymes cheaply and directly in the raw material to be used for conversion. To alleviate the skepticism towards genetically altered plants, especially prevalent in Germany and Europe, chloroplast transformation offers the opportunity to combine efficient production of a set of cellulases within a single plant, while reducing the risk of releasing altered genetic information into the environment. This approach is used in this project to express seven cellulolytic enzymes, derived from the bacterium
Thermobifida fusca
, in the chloroplasts of
Nicotiana tabacum
and to analyze their activity on cellulosic substrates as well as their influence on plant growth.