17.05.2021 | Ceramics | Ausgabe 23/2021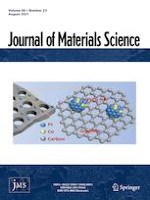 Co-firing preparation and properties of piezoelectric ceramic/structural ceramics layered composites
Zeitschrift:
Autoren:

Kan Bian, Xiuxiu Li, Yiping Wang, Xiongjie Li, Sheng Sun, Shuo Feng, Ying Yang
Wichtige Hinweise
Handling Editor: David Cann.
Publisher's Note
Springer Nature remains neutral with regard to jurisdictional claims in published maps and institutional affiliations.
Abstract
Pb(Zr, Ti)O
3
(PZT)-based piezoelectric ceramics and Al
2
O
3
-based structural ceramics were cast and co-fired to prepare a layered piezoelectric ceramic/structural ceramic composite. Considering the significant differences in sintering characteristics of PZT- and Al
2
O
3-
based ceramics, control of the sintering temperature and the dependence of the linear shrinkage on the solid content of the tape-casting films were systematically conducted at first. The sintering density and the interface bonding properties of the prepared composites were then investigated. The results of electrical and mechanical properties of the composite ceramics indicate: By using sintering aids, Al
2
O
3
ceramic could be fully densified and co-fired with PZT ceramic at 1150 °C. Shrinkage matching during sintering was achieved by adjusting the solid contents to 45 vol.% and 65 vol.% for PZT and alumina tape-casting films. In the layered composites, Al
2
O
3
structural ceramic presents an excellent mechanical property with HV hardness of 667, while the PZT functional ceramic presents
d
33
,
ε
r
and tanδ of 259 pC/N, 965 and 0.37%, respectively.