12.09.2020 | ORIGINAL ARTICLE | Ausgabe 6/2020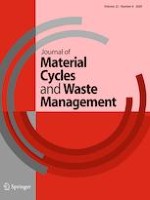 Co-pyrolysed animal manure and bone meal-based urea hydrogen peroxide (UHP) fertilisers are an effective technique of combating ammonia emissions
Zeitschrift:
Autoren:

Deogratius Luyima, Jae-Han Lee, Jwakyung Sung, Taek-Keun Oh
Wichtige Hinweise
Electronic supplementary material
Publisher's Note
Springer Nature remains neutral with regard to jurisdictional claims in published maps and institutional affiliations.
Abstract
Formulating biochar-based nitrogen fertilisers from charred livestock manure and urea, the two largest emitters of ammonia (NH3) may help to abate particulate matter emitted from agricultural operations. However, animal manure biochar inadequately retains carbon, thus impairing its primary role of carbon sequestration. Co-pyrolysis of animal manure with phosphorus (P) may improve quality of the biochar, but with the phosphate rock reserves expected to vanish soon, a shift to renewable P sources is desirable. Bone waste is laden with P and can be a viable replacement of the phosphate rock. In the current study, we assessed the efficiency of bone waste as a P source in the co-pyrolysis of cow dung and quantified the NH3 emitting potentials of the biochar-based urea and UHP fertilisers formulated with the co-pyrolysed biochar. Co-pyrolysis of cow dung with bone waste increased yield and carbon retentions of biochar and boosted biochar's capacity to attenuate NH3 emissions. UHP fertilisers formulated from the co-pyrolysed biochar lessened NH3 evolutions by as high as 85.93% and were more effective in reducing NH3 volatilisations than co-pyrolysed biochar-based urea fertilisers.