2018 | OriginalPaper | Buchkapitel
Co-simulation: The Past, Future, and Open Challenges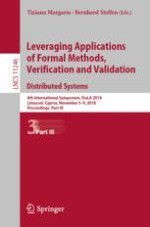 Erstes Kapitel lesen
Autoren: Cláudio Gomes, Casper Thule, Julien Deantoni, Peter Gorm Larsen, Hans Vangheluwe
Abstract
In the engineering of heterogeneous systems, there have always been challenges related to ensuring a common understanding of the interfaces between the constituent systems.
In these systems, the systematic analysis of the relevant artefacts is governed by different kinds of models based on different kinds of formalisms (e.g., state machine models for software-based controllers, and differential equations for physical sub-systems). In such a hybrid setting, it makes sense to examine how to combine different kinds of models in ways that enable a well-founded analysis of the interaction between these.
Co-simulation has been proposed as a way forward by different stakeholders in different disciplines. It is a technique to couple multiple simulation tools, so that the interactions with, and within, a coupled system can be simulated through the cooperation of these tools.
In this paper, we: provide an historical overview of the different facets of co-simulation; describe examples of industrial applications; identify the emerging trend and the challenges (both theoretical and practical) for the future use of this technology.