2016 | OriginalPaper | Buchkapitel
CO2 Capture, Transportation, and Storage Technology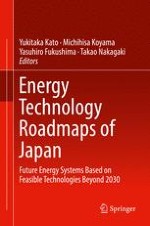 Erstes Kapitel lesen
Autoren: Ikuo Taniguchi, Kenshi Itaoka
Verlag: Springer Japan
Abstract
Carbon dioxide (CO2) capture and storage (CCS) can be deployed primarily at major point sources of CO2, such as fossil fuel-fired power plants. For CO2 capture, solution absorption as represented by liquid amine scrubbing is the most widely investigated. Membrane separation in pressurized flue gas, such as in an integrated gasification combined cycle (IGCC), is expected to reduce energy and cost. The majority of energy and cost during CCS is in the capture process. The roadmap of CO2 capture targets a cost reduction from 4200 JPY (current references) to 1000 JPY by 2030.
For CO2 transportation, although pipeline transportation is a mature technology, ship transportation is not widely used but is expected to be effective for offshore CCS in Japan. The roadmap of transportation has a 2050 infrastructure target connecting a cluster of substantial CO2 sources to storage sites with a combination of pipelines and ship transportation.
There are three important factors for feasible implementation of CO2 storage: capacity, injectivity, and security (containment). Japan has great potential to store CO2 in offshore geological formations. CO2 injection in geological reservoirs is also an established technology in oil mining via CO2-enhanced oil recovery (EOR), which is a technology analogous to CCS. Stable long-term CO2 containment in geologic formations is a scientific and technical agenda. The roadmap of storage technology has a target of monitoring cost reduction and technology development to enhance CO2 trapping in those formations.