2018 | OriginalPaper | Buchkapitel
12. Coda: The End of Tolerance?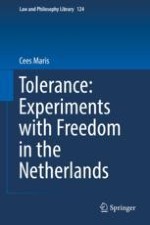 Erstes Kapitel lesen
Autor: Cees Maris
Abstract
This chapter takes stock of
Tolerance: Experiments with Freedom in the Netherlands
. According to pessimists the end of tolerance is imminent throughout the Western world. Indeed, populist politicians achieve great electoral successes with destructive xenophobic and isolationist political programs. Present-day Dutch intolerance is a two-headed monster: large immigrant communities endorse intolerant traditions; many natives react with increasing intolerance to immigrants. Both tendencies reinforce each other, which raises the
paradox of tolerance
. According to Rawls, justice requires the tolerant to tolerate the intolerant 'as long as liberty itself and their own freedom is not in danger'. The decisive question is, then, whether toleration is an endangered institution.
Optimists point out that even neo-conservatives and nationalists endorse the values of the Enlightenment, including gay marriage. Policies on euthanasia and drugs are tending to become more liberal. In short, the basic liberal achievements of the 1960s remain uncontested. This also holds true for the institutions of the liberal state. Present-day populists do not call for violent subversion of the democratic order. Despite all this, however, the rise of nationalist intolerance in liberal countries, the threat of Islamist terrorism, and the assertive nationalist attitude of the dictatorial regimes of China and Russia, make many worry about the world in which their children will have to live. In these circumstances it is difficult to make an educated guess about the future of tolerance. The major lesson we can learn from history is that we should continue to fight for freedom.