21.02.2015 | Ausgabe 1/2016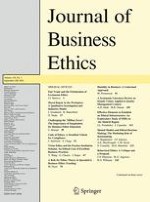 Code of Ethics: A Stratified Vehicle for Compliance
Zeitschrift:
Autoren:

Jennifer Adelstein, Stewart Clegg
Wichtige Hinweise
… for the distance is so great between how we live and how we ought to live that he who abandons what is done for what ought to be done learns his ruin rather than his preservation…(Machiavelli
1520
[1980], p. 66).
Abstract
Ethical codes have been hailed as an explicit vehicle for achieving more sustainable and defensible organizational practice. Nonetheless, when legal compliance and corporate governance codes are conflated, codes can be used to define organizational interests ostentatiously by stipulating norms for employee ethics. Such codes have a largely cosmetic and insurance function, acting subtly and strategically to control organizational risk management and protection. In this paper, we conduct a genealogical discourse analysis of a representative code of ethics from an international corporation to understand how management frames expectations of compliance. Our contribution is to articulate the problems inherent in codes of ethics, and we make some recommendations to address these to benefit both an organization and its employees. In this way, we show how a code of ethics can provide a foundation for ethical sustainability, while addressing management intentions and employees' ethical satisfaction.