09.12.2015 | Ausgabe 1/2016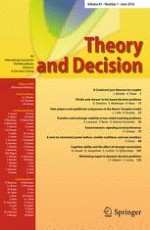 Cognitive ability and the effect of strategic uncertainty
Zeitschrift:
Autoren:

Nobuyuki Hanaki, Nicolas Jacquemet, Stéphane Luchini, Adam Zylbersztejn
Wichtige Hinweise
This project is partly financed by JSPS-ANR bilateral research Grant "BECOA" (ANR-11-FRJA-0002). Part of this research was performed within the framework of the LABEX CORTEX (ANR-11-LABX-0042) of Université de Lyon, and LABEX OSE of the Paris School of Economics (ANR-10-LABX_93-01), both within the program "Investissements d'Avenir" (ANR-11-IDEX-007) operated by the French National Research Agency (ANR). Ivan Ouss provided efficient research assistance. We thank Juergen Bracht, Colin Camerer, Guillaume Fréchette, Haoran He, Asen Ivanov, Frédéric Koessler, Rosemarie Nagel, Ariel Rubinstein, Jason F. Shogren, Jean-Marc Tallon, Antoine Terracol and Marie-Claire Villeval for their comments. Hanaki and Jacquemet gratefully acknowledge the
Institut Universitaire de France
. Luchini thanks the School of Business at the University of Western Australia for hospitality and support. A major part of this work was conducted while Hanaki was affiliated with Aix-Marseille University (Aix-Marseille School of Economics, AMSE) and Jacquemet was affiliated with Université de Lorraine (BETA). Hanaki and Jacquemet thank both institutions for their various supports.
Abstract
How is one's cognitive ability related to the way one responds to strategic uncertainty? We address this question by conducting a set of experiments in simple
\(2 \times 2\)
dominance solvable coordination games. Our experiments involve two main treatments: one in which two human subjects interact, and another in which one human subject interacts with a computer program whose behavior is known. By making the behavior of the computer perfectly predictable, the latter treatment eliminates strategic uncertainty. We find that subjects with higher cognitive ability are more sensitive to strategic uncertainty than those with lower cognitive ability.