01.11.2017 | Ausgabe 11/2017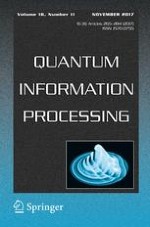 Coherence of one-dimensional quantum walk on cycles
Zeitschrift:
Autoren:

Zhimin He, Zhiming Huang, Lvzhou Li, Haozhen Situ
Abstract
Quantum coherence plays a central role in quantum mechanics and provides essential power for quantum information processing. In this paper, we study the dynamics of the
\(l_1\)
norm coherence in one-dimensional quantum walk on cycles for two initial states. For the first initial state, the walker starts from a single position. The coherence increases with the number of steps at the beginning and then fluctuates over time after approaching to saturation. The coherence with odd number of sites is much larger than that with even number of sites. Another initial state, i.e., the equally superposition state, is also considered. The coherence of the whole system is proved to be
\(N-1\)
(
\(2N-1\)
) for any odd (even) time step where
N
is the number of sites. We also investigate the influence of two unitary noises, i.e., noisy Hadamard operator and broken link, on the coherence evolution.