01.03.2021 | Ausgabe 3/2021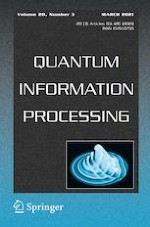 Coherent control of quantum and entanglement dynamics via periodic modulations in optomechanical semiconductor resonator coupled to quantum-dot excitons
Zeitschrift:
Autoren:

Vijay Bhatt, Pradip Kumar Jha, Aranya Bhuti Bhattacherjee, Souri Banerjee
Wichtige Hinweise
Publisher's Note
Springer Nature remains neutral with regard to jurisdictional claims in published maps and institutional affiliations.
Abstract
We systematically study the influence of simultaneously modulating the input laser intensity and quantum-dot (QD) resonance frequency on the mean-field dynamics, fluctuation energy transfer and entanglement in a optomechanical semiconductor resonator embedded with a QD. We show that the modulation and the hybrid system can be engineered to attain the desired mean-field values and control the fluctuation energy transfer and the entanglement among the various degrees of freedom. A remarkably high degree of entanglement can be generated by modulating only the QD frequency. The interplay between the two modulations leads to a decrease in the entanglement. Switching on the modulation leads to a transition from low stationary to large dynamical entanglement. This investigation provides novel strategies to coherently control data signal transfer and storage in quantum information processing networks.