04.09.2018 | Original Article | Ausgabe 4/2018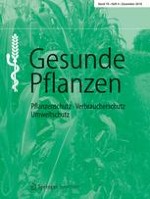 Cold Hardiness Assessment in Seven Commercial Fig Cultivars (
Ficus Carica

L.)
Zeitschrift:
Autoren:

H. Karami, M. Rezaei, A. Sarkhosh, M. Rahemi, M. Jafari
Wichtige Hinweise
Author contribution statement
All authors equally contributed to this study.
Abstract
Freezing injury is one of the most restrictive dynamics issues that commercial fig producers are fronting. This study was aimed to compare cold hardiness among seven commercial fig cultivars at three different developmental stages. We investigated the association between freezing tolerance and soluble carbohydrate and proline fluctuations during acclimation in the one-year-old fig shoots. Using both electrolyte leakage measurement and tetrazolium stain test LT50 values were calculated, which differentiate freezing tolerance among the studied cultivars. The results showed significant differences among the cultivars at three evaluation stages of dormancy. The average of cold winter resistance in studied cultivars in November, January, and March, were −16.89, −20.23, and −21.35 °C, respectively. LT50 electrolyte leakage, cold hardiness index, significantly varied among the fig cultivars. In November to January, 'Atabaki' and 'Kashki' cultivars showed the maximum of −0.11 °C/per day, and the minimum of −0.01 °C/per day of adaptation rate, respectively. Soluble carbohydrate (sugars) concentrations of shoot samples increased during cold acclimation from November (49 mg/g dry weight (DW)) to January (130 mg/g DW) and then decreased in March (93 mg/g DW). Proline content varied significantly among the cultivars in November and January. High correlations were observed between LT50 values and the soluble carbohydrates content compared with proline. Soluble sugars content might be a better indication of cold hardiness than proline content in fig trees. 'Atabaki' cultivar showed a very good resistance to winter freezing in comparison to others cultivars, although it seems to be very sensitive to fall freezing. The outcome of this study can be considered for sustainable production and breeding programs in common figs.