28.01.2019 | Ausgabe 1/2019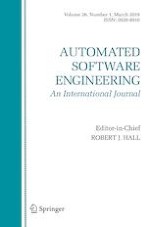 Collaborative feature location in models through automatic query expansion
Zeitschrift:
Autoren:

Francisca Pérez, Jaime Font, Lorena Arcega, Carlos Cetina
Wichtige Hinweise
Publisher's Note
Springer Nature remains neutral with regard to jurisdictional claims in published maps and institutional affiliations.
Abstract
Collaboration with other people is a major theme in the information-seeking process. However, most existing works that address the location of features during the maintenance or evolution of software do not support collaboration, or they are focused on code as the main software artifact. Hence, collaborative feature location in models has not enjoyed much attention to date. In this work, we address this concern by proposing an approach, CoFLiM, that enables the collaboration of several domain experts in order to locate the model fragment of a target feature. CoFLiM uses the feature descriptions of the domain experts and their self-rated confidence level to automatically reformulate the relevant feature descriptions in a single query. This query guides the evolutionary algorithm of our approach that finds the model fragment of the feature being located. We evaluate CoFLiM in a real-world case study from our industrial partner. We analyze the impact of CoFLiM in terms of recall, precision, and the F-measure. Moreover, we compare the reformulation of CoFLiM with four baselines. We also perform a statistical analysis to show that the impact of the results is significant. Our results show that collaboration pays off in the location of features in models. The results also show that the self-rated confidence level can be used to locate features in models. Finally, the results show that there are no significant improvements when more than three domain experts are involved, which is relevant in those industrial contexts where the availability of domain experts is scarce.