01.02.2011 | Ausgabe 2/2011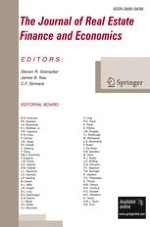 Collateral Risk in Residential Mortgage Defaults
Zeitschrift:
Autoren:

Tyler T. Yang, Che-Chun Lin, Man Cho
Wichtige Hinweise
The research supports from the National Science Council of Taiwan (NSC96-2415-H-007-011-MY2 for C. C. Lin) are gratefully acknowledged.
Abstract
This paper presents a systematic framework for capturing the collateral-driven mortgage default risk. A forward-looking home price distribution model is developed that explicitly incorporates different sources of volatility in the market value of collateral houses. A consistent and computationally-efficient top-down approach of home price simulation is also introduced. We show that with the proper inclusion of all relevant sources of volatilities, the top-down approach provides close approximation to the results generated by a theoretically sound but computationally demanding bottom-up simulation approach. Using a numerical simulation, we demonstrate that a geographically-diversified mortgage pool entails a substantially lower level of systematic collateral driven mortgage default risk compared to a spatially-concentrated pool. However, the expected default risk is shown to remain unaffected, indicating that the benefit from geographic diversification is only realized through lower risk-based capital requirements, not in lower mortgage insurance premiums. Based on the US state level house price indices, the systematic risk of a state-concentrated mortgage pool is estimated to be about four times higher than that of a nationally-diversified mortgage pool. Our results also show that, among the different volatility components, omitting the cross-sectional dispersion of individual home prices would produce the largest bias in assessing home-price-based mortgage default risk.