2018 | OriginalPaper | Buchkapitel
Collective Actions in Russia: Features of on-Line and off-Line Activity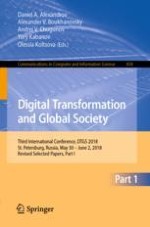 Erstes Kapitel lesen
Autor: Alexander Sokolov
Abstract
The paper is devoted to the analysis of collective actions in modern Russia. The author analyzes the approaches to understanding collective action in the modern socio-political process. The transformation of collective actions and the emergence of a new phenomenon - on-line collective action are analyzed in the paper. The degree of significance of on-line collective actions and the possibility of their impact on the socio-political situation is analyzed.
The paper includes the survey of experts from 21 regions of Russia in 2014, 14 regions in 2015, 16 regions in 2017 with a limited 10–16 number of experts for each region. The author analyzes the regional features of the organization of collective actions. The study is made possible to reveal the gradual growth of the importance and influence of the Internet of forms of collective action. However, the forms still have much less influence than traditional forms of collective action.
The paper identifies the features of online collective action in comparison with off-line collective actions. The author reveals the peculiarities of the reaction of the authorities to collective actions, revealing the features of the reaction to online collective actions. The author identifies the features of organizing collective actions both in off-line and on-line spheres.