01.02.2011 | Original Contribution | Ausgabe 3/2011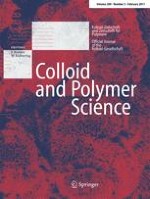 Colloidal crystallization of thermo-sensitive gel spheres of poly (
N

-isopropyl acrylamide)
Zeitschrift:
Autoren:

Tsuneo Okubo, Daisuke Suzuki, Tomoyo Yamagata, Akihiro Katsuno, Mikito Sakurai, Hiroshi Kimura, Akira Tsuchida
Abstract
Morphology, phase diagram, and reflection spectroscopy of the colloidal crystals of thermo-sensitive gel spheres, poly (
N
-isopropylacrylamide) (224 nm in the hydrodynamic diameter at 25 °C) were studied. Giant colloidal single crystals formed at very low gel concentrations. Critical concentration of melting of gel spheres (0.8 wt.% without ion-exchange resins) decreased sharply to 0.01 wt.% as the gel suspension was deionized exhaustively with coexistence of the mixtures of cation- and anion-exchange resins and increased substantially as concentration of sodium chloride increased. These studies demonstrated that the colloidal crystallization takes place by the extended electrical double layers formed around the gel spheres in addition of the excluded-volume effect of the gels. Most of the researchers including the authors have believed that the crystallization of the gel spheres takes place by the excluded-volume effect, in other words, by the hard-sphere model, exclusively. However, the present work clarified that the colloidal interfaces, which are inevitable for the formation of the electrical double layers, are formed firmly between the water phase and gel spheres, though the gel spheres contain a lot of water molecules in the inner the sphere region.