04.01.2017 | Original Paper | Ausgabe 8/2017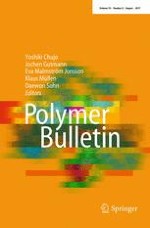 Colon targeted drug release studies of 5-ASA using a novel pH sensitive polyacrylic acid grafted barley
Zeitschrift:
Autoren:

Kartick Prasad Dey, Sumit Mishra, Nilendu Chandra
Abstract
In this investigation, we have reported novel polyacrylic acid grafted barley (BAR-
g
-PAA) in the presence of ceric ammonium nitrate (CAN) as an initiator using microwave radiation (MW). The different grades of grafted materials have been synthesized by varying the amount of reaction parameters and best grade is optimized on the basis of percentage grafting. The prepared novel grafted materials are confirmed by various physicochemical analyses like FTIR, XRD analysis, elemental analysis, SEM morphology and DSC studies. The swelling of different matrix tablets has been studied at 25 and 37 °C by varying pH environment (i.e. 1.2 and 7.2) similar to GI tract. An ideal matrix tablet has been prepared for the controlled drug release study at 37 °C in different dissolution medium like pH = 1.2 and 7.2. The mechanism and kinetics of 5-amino salicylic acid (5-ASA) from matrix tablet has been evaluated by Korsemeyer–Peppas model.