2013 | OriginalPaper | Buchkapitel
Colonic Manometry: What Do the Squiggly Lines Really Tell Us?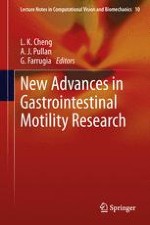 Erstes Kapitel lesen
Autor: Phil G. Dinning
Verlag: Springer Netherlands
Abstract
Colonic motility consists of a range of motor patterns that ensure net flow rates appropriate for the break down of food, absorption of water and nutrients and excretion of waste. Abnormalities in these motor patterns remain a leading hypothesis to explain the cause of functional colonic disorders such as constipation. However, whilst manometric catheters are used as one of the primary tools to record colonic motor patterns, we are as yet unable to define motor patterns that clearly separate patients from controls. Indeed in many instances while some changes in the patterns of manometric squiggly lines can be identified, it remains a matter of intuition and speculation as to how these changes may relate to a patient's symptoms. In this chapter, motor patterns recorded by colonic manometry will be compared to description of colonic wall motion and luminal transit. In doing so the chapter will attempt to detail what manometry is really telling us about colonic function. In addition the future direction and current advances in colonic manometry will also be discussed.